3/10/2014
ISCA found some new MOVEs during MOVE Week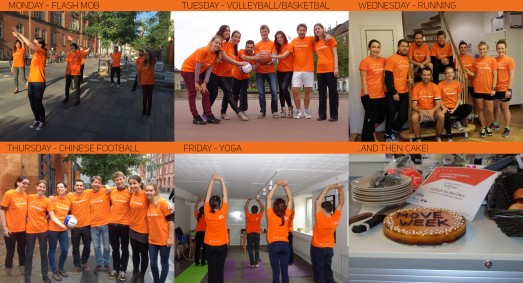 As the organisers of MOVE Week, we just couldn't sit still; we wanted to be part of our own event, so we moved and jumped and tried new activities.
It was a team effort every day of the week and we had a so much fun!
On Monday we put our dancing skills to the test and performed the MOVE Week Flash Mob outside our office. We did our best for sure, but in the end, it wasn't so much our skills but our passion to give it a go that counted most.
On Tuesday we dedicated our physical activity break to basketball and volleyball, proudly wearing the trademark orange T-shirts. Some got the hang of it better than others, but we all had a taste ofthe adrenaline rush.
Wednesday was dark and rainy and not all of us made it for the 5-kilometre running route. Fortunately, ISCA got some help from the Danish Gymnastics and Sports Associations (DGI), and the courageous team of 9 set off in the pouring rain.
Thursday was a special day as we played Chinese Football or the Tomato Game, as the French call it. This is a children's game, usually played in camps or during breaks at school, and it is even more fun when played by adults. And yes, we had some incidents along the way, but we proudly played it twice and our laughter filled the streets.
Today, Friday, ISCA brought the yoga mats out and made it through 10 sun salutations, stretching and recharging our batteries for the day ahead.
Our sweet tooth was also satisfied with a delicious low-calorie cheesecake supplemented by not so low-calorie Belgian chocolates.
ISCA was proud to be part of MOVE Week and after our active breaks, we came back to our desks to follow the amazing work our MOVE Agents are doing all over Europe.
We thank you for all the great events and initiatives, and wish you good luck for the rest of the week.
Thanks for a fantastic MOVE Week 2014!