11/6/2009
ISCA Executive Committee met in Frankfurt
On the occasion of the International German Gymnastics Festival 2009, the ISCA Executive Committee met in Frankfurt to participate in the Conference of the Festival and visit various events that were organized within the framework of this fantastic event.
The ISCA Executive Committee held its meeting on June 6 and 7, deliberating on a number of national and international updates, discussing the global situation of Sport for All and deal with a the internal organizational business.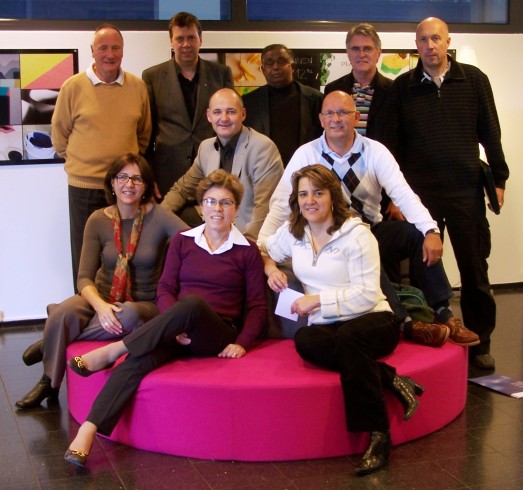 Decisions made
The Executive Committee concluded on the following issues.
The Asian Continental development plan, as presented by President Mogens Kirkeby (ISCA) and Continental Chairperson N. Shanmugarajah (SEAGCON), was accepted and will be implemented within the coming months.
The ISCA General Assembly and Congress 2010 will be hosted by DTB in Frankfurt. The Executive Committee thanks DTB for their commendable initiative.
Proposals and bids for the ISCA General Assembly and Congress 2011 can be sent to the ISCA Secretariat until the end of 2009. A decision on the host and location will be taken by the Executive Committee in the first quarter of 2010.
ISCA will continuously seek partnership and cooperation with Sport for All organisations and other relevant bodies.
The ISCA Executive Committee strongly supports the idea of proposed Congress in 2013 commonly organised between ISCA and TAFISA and hosted by SESC-SP.

The ISCA General Assembly 2009 will be held on Saturday, 24 October 2009.
The ISCA vision and mission strategy paper has been approved and is now being implemented.
The ISCA accounts 2008 were approved and the proposed revisions to the ISCA budget 2009 were accepted.
The ISCA Networks Monitoring paper, linking the 7 operating ISCA thematic networks to the Executive Committee, was adopted. Network leaders will immediately be updated about the guidelines and the working relation to Executive Committee members.
The European Continental Development Plan for ISCA Europe was discussed and the Executive Committee member Jaap Bisschop (NSA) was mandated to develop a model including an elected chair of a European steering group, two appointed members of a European steering group and an Executive Committee member as liaison to the European steering group. The new steering group and all the European members should meet at the occasion of the MOVE2009 congress.
A change from a 4-year to a 2-year election period for Executive Committee members was proposed with respect to the coming General Assembly and the related elections. The Presidents group will consider the practical timeframe for implementing such a proposal.
The ISCA Executive committee will meet again at the occasion of the MOVE2009 World Congress on Active Cities: Sport, Health & Citizenship from 21-24 October 2009 in Copenhagen.
Turnfest Closing Gala
Find here a selection of pictures from the Closing Gala of the International German Gymnastics Festival 2009 in Frankfurt, which the ISCA Executive Committee had the great pleasure to attend.