31/5/2018
ISCA celebrates MOVE Week with slow biking and extreme bocce battles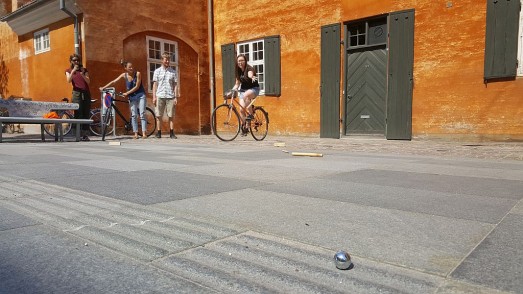 Today the ISCA team took some time out from our busy schedules to get involved in MOVE Week, and with MOVE Week getting involved of course means getting moving! With the secretariat based in cycle crazy Copenhagen we thought it was more than fitting for our movements to be based around our two-wheeled friends. But while the events we held involving our bikes were fun, they were not the kinds you would generally associate with cycling.
As with all movement that can be integrated into our daily lives the team had to account for our setting, right in the heart of Copenhagen, and also ensure the events were accessible to everyone – although we are active people, not everyone is a Freestyle BMX champion! So the two events decided on were a slow biking race and biking bocce.
"Slow" and "race" are two words that might seem like a contradiction, but just because we were not going fast did not mean the event was not fun or challenging! The winner had to travel the length of the make-shift course outside the office in as slow a time as possible, without going backwards and staying within a few metre wide pathway.
Everyone's bike-handling skills were on full display, and this being Denmark the odds on favourites with the bookmakers to triumph were the locals. However, in an enormous upset our Estonian colleague Laura took the win, with a time of one minute and nine seconds. Two Danes took the other two podium spots, and ISCA secretary general Jacob looked all set to win on his second run, having taken almost two minutes to navigate more than 90% of the course before having to put his foot down when victory seemed certain.
Then came the extreme biking bocce. The idea was simple and creative at the same time, playing bocce… but on bikes! A line was drawn from where the blocks had to be thrown, and whoever threw their block closest to the ball was the victor. After a few rounds, a champion from Austria emerged – our colleague in the projects team, Dominik. But not before we accidentally knocked on the Ministry of Education's door with a block that went astray, much to the confusion of the civil servant who answered the door!
The whole event was enjoyed not only by the team, but by passers-by as well. We got moving for MOVE Week… so now it is your turn.
Find out more about MOVE Week