25/1/2018
ISCA Annual Report 2017 now available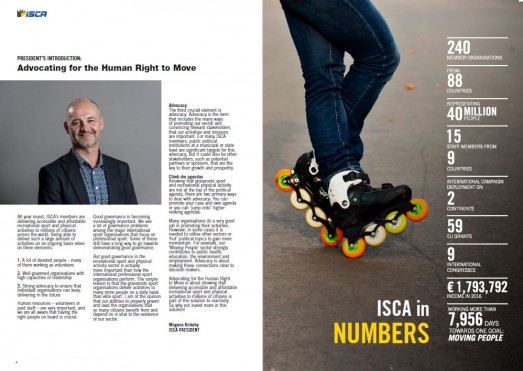 The International Sport and Culture Association's Annual Report for 2017 is now available and is a colourful collection of the events, projects and advocacy actions we led and supported alongside our members and partners during the year.
The report is full of examples that support the three pillars of our new strategy for 2018-2021, adopted at the ISCA General Assembly in October 2017: Solutions, Campaigns, and Advocacy.
Solutions (exchange of knowledge and best practices in physical activity programmes and hands-on tools)
Campaigns (NowWeMOVE and beyond)
Advocacy (delivering advocacy actions and empowering our members and partners to do the same)
Now, we look forward to a new year that will see NowWeMOVE campaign events such as MOVE Week, No Elevators Day and European School Sport Day continue to expand internationally, the NowWeBike cross-border tour return with two teams meeting at the European Week of Sport opening, and projects in fields including advocacy, active urban spaces, integration of refugees continuing – not to mention the launch of a whole new concept: Grassroots Sport Diplomacy!
Read recaps, previews and more in the ISCA Annual Report
Which physical activity facts deserved to go more viral than fake news in 2017?
In 2017 we heard a lot about myths, facts, real news and fake news in the international media. In the sport and physical activity sector, we believe that there are many facts we know we can rely on, and that motivate us in our work.
Here are a few of physical activity facts that deserved to go more viral than fake news in 2017:
1. Fact: It is our human right to move – this means that every one of us has the right to choose active ways of living, whether that is by taking stairs instead of elevators, active modes of transport, or playing all types of organised sport regardless of our age, background or gender.
Real newsflash 2017: ISCA made a formal commitment to enabling the human right to move at its GeneralAssembly after the 8th MOVE Congress for the Human Right to MOVE. When the ISCA General Assembly adopted the ISCA Strategy for 2018-2021, it also adopted a new ISCA Mission statement that commits to "empower organisations world-wide to enable citizens to enjoy their human right to move".
2. Fact: Physical inactivity rates are alarmingly high. Since ISCA was established in 1995, people have become less active due to changing work, lifestyle and free time habits, rising costs, and lack of time and opportunities to be active. In 2015, we estimated inactivity to cost Europe €80 billion euro alone.
Real newsflash 2018: Will the numbers change in 2018? The next Eurobarometer survey is expected in May 2018, and in the same month a new WHO Global Action Plan for Physical Activity will be adopted.
3. Fact: We have more power than we think to create change. ISCA's Annual Report for 2017 shows the array of actions and activities our members are working on that create real change in our sector and communities. Get inspired by their stories and get in touch with us or involved in a NowWeMOVE activity near you to get into the action.
Real newsflash 2017: Did you know that MOVE Week in Latin America had over 15,000 events in 13 countries? That's double the number from 2016. From a concept to get 100 million more Europeans moving by 2020, MOVE Week has been embraced on another continent across the Atlantic Ocean, driven by the power of our member Sesc in Brazil and a network of our members and partners. This is the power we have to make a difference. It's about taking the chance and taking action.
The ISCA Annual Report features not only real news from our network from 2017, it also contains some fun facts about ISCA. Check them out on page 29.