18/6/2015
ISCA and Cebr launch inactivity report in Brussels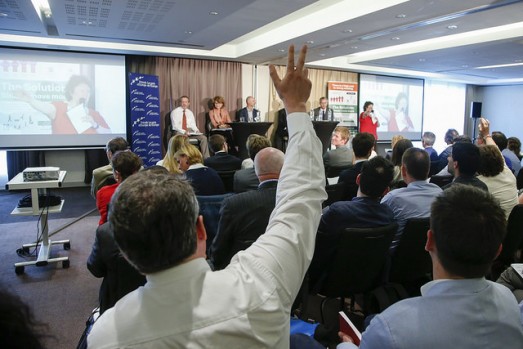 Photo:Witness Images/Terry Roge
The International Sport and Culture Association, ISCA, and the Centre for Economic Business Research (Cebr) launched their new report 'The Economic Cost of Physical Inactivity in Europe' at a "Café Crossfire" debate in Brussels on Wednesday 17 June, which was hosted by Friends of Europe and featured representatives from the European Commission, Parliament and Coca-Cola.
Around 130 stakeholders from the government, health, education, youth and corporate sectors joined in the debate on how to defuse Europe's physical inactivity time bomb after opening presentations from Vicky Pryce, the lead author of the report, ISCA President Mogens Kirkeby, Member of European Parliament Seán Kelly, European Commission Director for Youth and Sport Antonio Silva Mendes, and Coca-Cola Europe President James Quincey.
Pryce gave an overview of the report's startling findings, including that inactivity costs Europe 80 billion euro and 500,000 each year, and that a quarter of European adults and 4 out of 5 European children are not active enough to enhance their wellbeing. The latter finding could mean more expenses as these children get older:
"Today's inactive population will give rise to economic costs in the future," she said.
While James Quincey said that "there is no silver bullet to defeat physical inactivity", he also noted that "the report does a good job, because it doesn't just admire the problem; it sets out sensible steps" to address it.
The report shows that by getting a fifth of inactive Europeans to take up some physical activity, we could save 100,000 lives a year. While there isn't a single solution, both Mogens Kirkeby and Seán Kelly suggested there should be focus across sectors on engaging people who are "not naturally sporty" in activities that they are "comfortable with".
"Try to emphasise the positive and try to emphasise enjoyment and we'll go a long way," Kelly said.
Both Pryce and Quincey said that workplaces have a responsibility to get their employees more active:
"It's a business matter. Businesses do better if they have happy people working for them," she said, adding that schools are another important setting that should take more "innovative" approaches to the activities they offer children.
She also stressed that the solution "doesn't cost anything" and that "the benefits of physical activity can be gained from fairly mundane steps".
Quincey agreed:
"Everything doesn't have to be complicated an expensive. There are lots of things employers can do… It's about redesigning the way the workplace is constructed: [For example] if the stairs are the easiest thing available [the employees] will take them."
Antonio Silva Mendes acknowledged that the report offered valuable evidence that all of the stakeholders could use to help come up with strategies to defuse the inactivity time bomb.
"We have this frame, so now we have to do things in concrete terms," he said.
The debate will continue in a Debating Europe series on 24 June and 8 July. The first debate, featuring Mogens Kirkeby, can be found here
Listen to the full podcast and see more photos from the event at the Friends of Europe website
The full report and infographic can be found on the official microsite http://inactivity-time-bomb.nowwemove.com/, as can a more detailed breakdown of the economic and human cost of physical inactivity in Europe by the following countries: UK, Spain, Italy, Poland, France and Germany.