19/10/2013
Interview with Wouter Vermeulen,
Coca-Cola Europe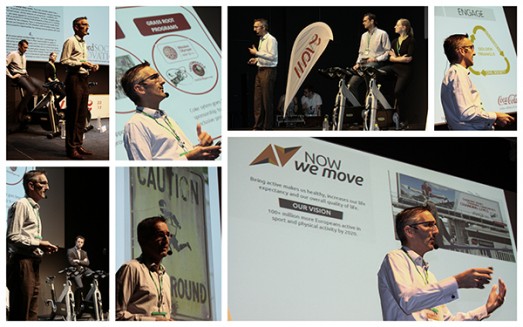 Spotlight on 'Leadership and innovations in a global market'
The first morning session of the MOVE Congress featured corporate stakeholders in sport and physical activity promotion, Coca-Cola Europe (Wouter Vermeulen), the World Federation of the Sporting Goods Industries (WFSGI) (Stefanie Burkert) and TechnoGym (Professor Silvano Zanusso), who led a literally active discussion on their roles in the sector. From the seats of exercise bikes, and pedaling up to 18 kilometres, the presenters led a debate which warmed up as quickly as they did over the course of the session.
All of these stakeholders are strong businesses which have the capacity boost the grassroots sport sector's resources, promotion and reach. They are also committed to supporting the vision to get millions more inactive citizens moving. At the same time they are faced with challenges of their own – how can they best complement the sector? What kinds of risks do changing trends in health and fitness (e.g. nutrition, purpose for exercising, popular physical activities moving from equipment-based workouts to running and incidental exercise doing everyday tasks) have on their businesses? And how much control do they – and should they – have over the sector?
We present an exclusive interview with Coca-Cola Europe's Corporate Responsibility Director for Health and Wellbeing, Wouter Vermeulen, who gave two presentations during the Congress.
You are here representing Coca-Cola Europe, what was your motivation for coming to present at the Congress?
If we want to get people from the entire society to be healthier and happier, and in order to get people moving, we need to work together across sectors and with leading organisations like ISCA who know what works, and have the strength to implement the programmes, so that's really important.
Do you think it's important for the grassroots sport sector to have a single strategy to get people moving?
As with many things in life, things can be rather complicated, so people have many barriers when they relate themselves to being physically active and we know that one size fits all doesn't work, not in nutrition and not in physical activity. You need to have one overarching umbrella, one basic idea that you want to convey. The way in which it is implemented in different countries and differ according to local needs ad local situations.
Why is Coca-Cola investing so much in grassroots sport?
Everyone needs to move more and moving can be as simple as taking the stairs instead of the elevator. So you really need to have a very broad view of what can contribute towards moving. But in that whole spectrum grassroots programmes are very interesting because they're very close to people, they are community based and they have a high track record of including people who normally would not be physically active. It is important for people who move already to keep on moving, but it is even more important for people who don't do anything to get them involved. So we believe that working with partners and listening to the thought leaders in grassroots sport, who are in abundance at the MOVE Congress, inspires us to better understand the importance of grassroots programs to move more people and get more people active
What is your vision for the future?
We know from research that the older kids get, the higher the dropout rate and the prevalence of physical activity declines. We would like to see some kind of combined effort to stop that decline and at the end of the day we would like to see a much more active Europe by 2020 or anytime sooner – not active in the sense of running the Berlin marathon, but walking to school, walking to work, taking the stairs and having fun.