24/5/2013
Interview with Pál Szekeres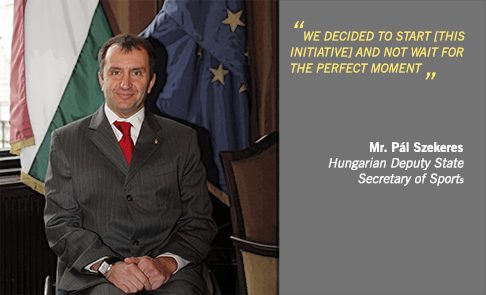 ISCA speaks to Pál Szekeres, Hungarian Deputy State Secretary of Sports, about physical education reform in Hungary
Across the world physical inactivity and sedentary lifestyles are threatening the future of our younger generations, and for the first time in history it is foreseen that the children of today are expected to live five years less than their parents as a result of inactivity. The everyday life of a child is typically thought of as one that is physically active – with running, jumping, active transport, active play and sport being a natural part of a regular day. However, the reality for most children is quite the opposite.
School time is also an important part of children's daily lives because it is supposed to teach the children how to develop as human being. But unfortunately the trend is the same in most schools systems – more sedentary hours, and less physical education and physical activity integrated into the average school day.
However, in Hungary a new concept giving children more opportunities to participate in physical education and physical activity during school hours has been introduced.
Question 1:
Last year Hungary implemented a new concept for physical education and physical activity in the school system. What does this new concept include?
The concept of every day physical education (five lessons a week) has been implemented since 1 September 2012 due to the renewed Act on Public Education. Beginning with the school year of 2012/2013 in every first, fifth and ninth grade this new concept was introduced. In the future this concept will be followed in an "ascending system" and each year new classes will begin to practice every day physical education.
Two out of the five PE lessons can be replaced by specific activities defined in the curricula. These activities may be, for instance, swimming, horse riding and other types of physical activity, which can be practiced locally and are included into the curricula.
There is another possibility to replace the above mentioned two lessons with other sporting activities. It can be done, if the student is training regularly in a school sport club or in the framework of a regular sport club, where competitive or contract based amateur sport is practiced.
Question 2:
Across the world physical education and physical activity during school time is in general decreasing. What was the reason for going against this trend in Hungary?
It has been a topic for many years. Children and young people spend more and more time in front of the computer and in virtual space. We all know that in order to maintain a healthy way of living, we need to meet the basic physical activity requirements. The young generation provides the basis for a healthy society; thus sedentary lifestyle has to be countervailed first of all at a young age. If our children are growing up with a mentality which includes regular physical activity, it is more likely that they will keep this habit and will practice some sport and physical activity in an older age.
We of course are aware of the fact that it is difficult for many families to take their children to extra physical activity after school and work. Due to the new concept, regular physical activity will be available for every child between 6-18 years for free and in their own school in the future.
Question 3:
Later this month the 5th International Conference for Ministers and Senior Officials responsible for Physical Education and Sport is taking place in Berlin. This UNESCO MINEPS V meeting is organised to debate the current challenges in sport and physical education. However, since the previous meeting in Athens in 2005 we have not seen much progress. What would be your recommendation to your international colleagues?
I know that it is not easy to take such a big step because there are several challenges. On the one hand the respective institutions have to work together, which is already an issue; on the other hand we are always waiting for the right moment, when all the details are matching and the situation is mature enough to implement such a big project. We decided to start it and not wait for the perfect moment. There is a need to improve the conditions of the facilities, like building and renewing school facilities. PE teachers need to be trained too, but these are the tasks we can manage in the first line. The point is that the children cannot wait and it is important to start as early as possible.
I propose to learn from each other and share good examples, for it is the way forward.
---