16/9/2014
Interview with Nenad Borkovic,
MOVE Week National Coordinator for Croatia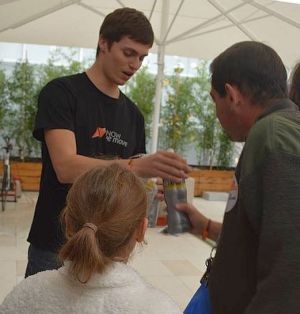 Nenad Borkovic is no stranger to NowWeMOVE campaign or ISCA's network. As part of the University of Zagreb's student association DRITE, he grabbed the opportunity to organise and promote MOVE Week in Croatia in 2013. Now he is in his second year as Croatia's National Coordinator and next year he will join the ISCA Secretariat as an EVS (European Voluntary Service) volunteer.
Earlier this month, Nenad announced that his MOVE Week team had secured support from the Croatian Ministry of Health. By the time I spoke to him about the deal he had much more news to report. Read on to find out what Croatia has in store for MOVE Week 2014!
Q. Firstly, congratulations on your agreement with the Croatian Ministry of Health! How did you achieve that?
A. Thank you. I think that motivation of our partners and people who are part of this movement was instrumental in gaining the support of the Ministry of Health. Besides them we have the Ministry of Science, Education and Sport on board as well as several municipalities: City of Zagreb, County of Medjimurje, City of Prelog and City of Mursko Sredisce. Coca-Cola Adria has also recognised the dedicated work of our MOVE Agents. With their support we are looking forward in reaching our national goal, which is 11,000 participants. A great deal of the credit also goes to the Institute of Public Health County of Medjimurje, with special thanks to Renata, her colleagues and partners for the amazing work they do.
Q. What did you learn from your experience as a National Coordinator last year and how has it helped you this year?
A. Last year our student association was both a national coordinator and MOVE Agent. I found that experience to be the most valuable in my life. All the members of our team, who were the core of the last MOVE Week, showed great passion and dedication in trying to move Croatia. I would like to mention several names: Besim Aliti, Tea Matijasec, Lucija Smrke and Frane Boban, who were just students at that time, but students with a huge desire and will. From my experience with MOVE Week 2013 I learned that you need to put your team members first and show that you trust and appreciate them.
Q. As a new member of the EU, what does being part of a pan-European event mean to Croatia?
A. A lot. First of all, I want to quote one of my life role model, Nelson Mandela: "Sport has the power to unite people in a way that little else does". Last year Croatia became part of the European community and Croatian society needs to start to live in that way. We must broaden our horizons and enjoy the feeling of being part of Europe. MOVE Week can offer that to all of us. MOVE Week is a tool which can bring people closer together. In short, with MOVE Week we are going to find the MOVE that moves Croatia in Europe.
Q. In February next year you will officially join ISCA as an EVS (European Voluntary Service) volunteer. What motivated you to apply and what do you hope to get out of your year at ISCA?
A. My motivation is to be part of challenging environment that will push my limits even further. I believe that if people aren't taking steps forward, they eventually will take a step backward. Therefore, you need to take all the opportunities in your life to get new experiences and become richer. As an EVS I hope I will make some new friendships from all over the world and I will also help my friends from Croatia who I've met during the NowWeMOVE campaign to achieve their goals.
Q. Finally, I think your photo on the MOVE Week National Coordinators' page deserves a special mention. Have you noticed any extra interest in MOVE Week in Croatia since the new MOVE Week website went live?
A. Haha! Thank you, but I think my picture isn't any more special than the pictures of all the other national coordinators. The MOVE Week website is great and it is a very effective in explaining the idea of MOVE Week. I'm sure it helps all new MOVE Agents and participants and it's one of the reasons why we can be realistic about setting high goals for MOVE Week.
For everyone else who wants to join us, please check our website croatia.moveweek.eu. You're going to enjoy moving with us!