24/5/2013
INTERVIEW WITH
MARIJE VAN MONTFOORT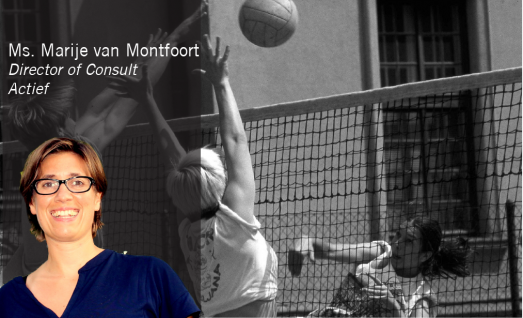 Marije van Montfoort, Director of Consult Actief
This month ISCA interviewed Marije van Montfoort, one of the Directors of the Dutch consultancy Consult Actief, to find out more about the programme Coach Actief and why it has been a successful example of good practice in the grassroots sport sector.
Who is Marije van Montfoort?
Marije van Montfoort is one of the Directors of Consult Actief, a consultancy based in the Netherlands that promotes sport and exercise for health and societal outcomes. Consult Actief works with a variety of approaches that contribute to the objective to maximise the benefits of sport and exercise for all. As such Consult Actief gives custom-made advice to companies, institutions, federations and local/regional authorities from the sport, health, youth, social and environmental sectors. Coach Actief (Coach Active) is one of the approaches that Consult Actief works with.
What is Coach Actief?
Coach Actief is a project for troubled youngsters aged from 16-21 who have dropped out of school, are jobless and/or are clueless about their future. Coach Actief offers them an accredited sport and leisure education programme and trains them to become a sport coach in their own community. Through the project the coaches learn important skills like communication, adopting a professional attitude and working together. They also learn how to earn respect from their peers in a positive way. The mentor of the coaches supports them in making better choices and helps them with finding their way in life.
What types of methods/approaches does the programme use?
Coach Actief consists of 3 key elements:
- An accredited education programme in the field of sports and leisure
- Gaining work experience by organising sports and recreational activities as a coach in their own Community
- A personal mentor that supports the youngsters in making better choices and learning important skills and competences
Has this approach been successful – and if so, what has made it successful?
The project started in 2010 with 6 pilot locations in the Netherlands. A total of 63 coaches participated in the pilot of which 95% received their diploma. They organised a total of 2248 activities in their own communities in which 65,000 kids participated. After the project some coaches returned to school, others got offered a job as a sport coach and some become employed in another job. All together the project has been very successful and the coaches trained in the 6 pilot locations have evaluated their training very positively.
We believe that the following 2 elements are key to the success of Coach Actief:
1) By using the strength of sports to reach and support troubled youngsters, the project teaches the future coaches important life skills and gives them new perspectives on their future.
2) Because of similarities in age, background and social status the coaches turn out to be perfect role models for the children that participate in their activities. As peers they know perfectly how children in certain areas and of certain backgrounds can be reached. This is why the number of kids participating in the activities is so high.
What is your role in Coach Actief?
I wish I was the founding mother of this great project, which in my eyes also has great international potential; however, these credits go to someone else. At this moment I have the pleasure to support the Dutch Caribbean island of Bonaire with the implementation of the Coach Actief project.
What advice would you give to other organisations that are interested in trying this type of programme?
Investing in troubled youth pays off. In the case of Coach Actief, not only the participating coaches and the participating kids benefit, but also entire neighbourhoods. A project like this also contributes to achieving the goals and objectives of, for example, your local social housing association or your local municipal council. With the commitment of good professionals from various sectors and sustainable financial back-up a project like this is very likely to be a success and yield long term impacts for individuals as well as communities.
---
Don't hesitate to contact Marije if you are looking for more information on Coach Actief:
For more information on the work of Consult Actief you can visit: www.consultactief.nl
---