2/11/2010
Interview with Lideke Middelbeek -
WHO Europe
Interview with Lideke Middelbeek
WHO Regional Office for Europe
Lideke Middelbeek is a Technical Officer for Nutrition, Physical Activity and Obesity at the WHO Regional Office for Europe in Copenhagen.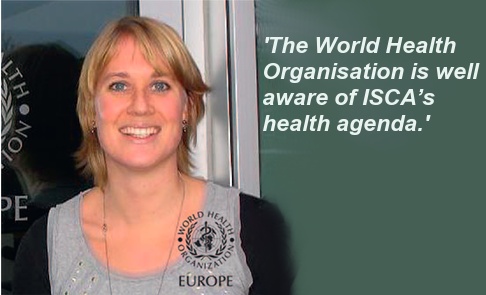 What is the WHO Regional Office for Europe's perspective on physical activity and sport for health promotion?
Physical activity has been identified as the fourth leading risk factor for global mortality. In the WHO European Region lack of activity is estimated to be related to one million deaths per year. Regular physical activity has significant benefits for health. It reduces the risk of the most chronic non-communicable diseases such as cardiovascular disease, diabetes and some cancers. It helps control weight and contributes to mental health and promotes overall well-being. Taking part in physical activity also increases opportunities for social interaction and feeling part of the community.
To increase levels of physical activity in the Region, the WHO Regional Office for Europe calls for the promotion of physical activity for health across settings and together with all relevant stakeholders from public and private sectors.
What does the WHO Regional Office for Europe do right now in this regard?
The WHO Regional Office for Europe monitors the levels of physical inactivity in the European Region and assesses what policy actions Member States undertake to make their population more active. Besides mapping the situation, WHO supports Member States in developing and implementing monitoring systems and policy actions by providing various tools and programmes that include specific guidelines or actions on promoting physical activity. The new global recommendations on physical activity for health are a good example of how WHO provides guidance to local and national policy-makers.
What is the WHO Regional Office for Europe's perspective on the relevance of non-governmental organizations in physical activity promotion?
To promote synergy in physical activity promotion activities, the WHO Regional Office for Europe works with its 53 Member States and a wide variety of partners, including the European Commission, intergovernmental organizations, national agencies, academic and research institutions. WHO is also committed to working with NGO partners, such as ISCA, which also has a stake in physical activity and makes an invaluable contribution in reaching out to national and local partners and to populations.
How does the WHO Regional Office for Europe collaborate with non-governmental organizations on sport for all? What is WHO's opinion on the role of/message to ISCA?
Over the past few years the WHO Regional Office for Europe has closely followed developments in the area of sport for all. WHO is well aware of ISCA's health agenda and how its large network inspires many sport clubs and organizations which in turn affects the many people using those facilities. WHO encourages ISCA in its efforts to get more European citizens active in sport and physical activity and will follow its developments with great interest, as well as investigate ways to collaborate.