24/6/2015
Inactivity Time Bomb:
ISCA challenges the European Parliament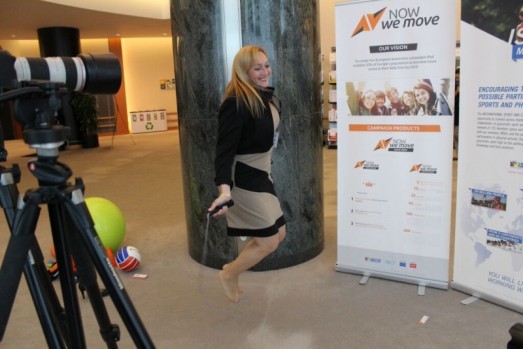 In 2014 ISCA (International Sport and Culture Association) went to European Parliament to ask Members of European Parliament (MEP) to show us their moves. This year they wanted to do even more!
That's because study ISCA has commissioned has now shown that physical inactivity is costing Europe 80 billion Euros every year.
Watch the video and the individual MEP interviews here
Meet the MEPs:
Daniel DALTON (ECR, UK)
Emma MCCLARKIN (ECR, UK)
Mary HONEYBALL (S&D, UK)
Julie WARD (S&D, UK)
Marlene MIZZI (S&D, Malta) (pictured above)
Bogdan WENTA (EPP, Poland)
Sean KELLY (EPP, Ireland)
Hannu TAKKULA (ALDE, Finland)
Christel SCHADELMOSE (S&D, Denmark)
Marc TARABELLA (S&D, Belgium)
Andrey NOVAKOV (EPP, Bulgaria)
Bogdan ZDROJEWSKI (EPP, Poland)
Download the report at http://inactivity-time-bomb.nowwemove.com/
NowWeMOVE Campaign
Website ▶ http://nowwemove.com/
Blog ▶ http://blog.nowwemove.com/
Facebook ▶ https://www.facebook.com/NowWeMove
Twitter ▶ https://twitter.com/NowWeMove
Pinterest ▶ https://www.pinterest.com/NowWeMove_pin/
ISCA Website ▶ http://www.isca-web.org
Special thanks to « Association Luxembourgeoise de Street Soccer » (ALSS)
Video by Brecht Boelens
Photos by Jana Stehliková