9/2/2021
How to "Be Proactive" by using the new WHO Guidelines on Physical Activity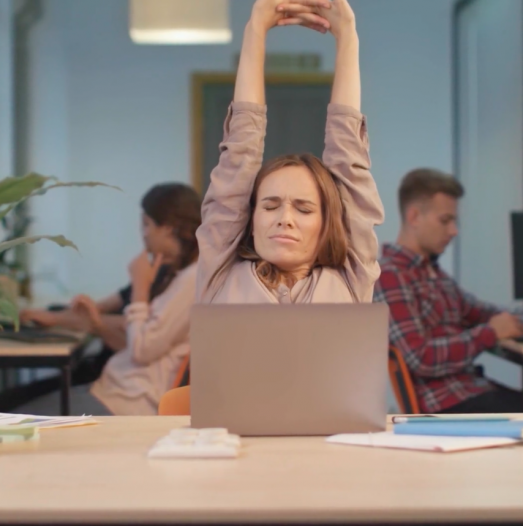 Photo: Of course, office moves also count! (WHO Every Move Counts campaign)
At the end of last year, the World Health Organization (WHO) published its first global guidelines on physical activity in 10 years. But the new WHO Guidelines on Physical Activity and Sedentary Behaviour and their slogan 'Every Move Counts' also arrived as timely message in a difficult year that any activity that gets us up and moving can help boost our wellbeing.
There are also many ways you can use the new Guidelines to boost your work and efforts to spread the message about health-enhancing physical activity.
Here are three opportunities that stand out to us as ways to "Be Proactive":
Translate. Only 78 countries translated the previous WHO guidelines into their own languages. In November, the Head of the WHO Physical Activity Unit, Dr Fiona Bull, challenged more countries to come on board to update or translate the new guidelines, so that "we have every country recognising and having a policy position that physical activity is part of health, the environment and a sustainable future for everyone." If embarking on a 100-page document is too daunting a task, translating the one-page Executive Summary will also capture the key information.
Promote. You can now access the full guidelines document and a range of social media resources to promote the 'Every Move Counts' message. Choose the format that works best for you and your organisation.
Think beyond sport. Forget the thought that only sport or athletic movements equal exercise – active transport and stair climbing can be just as effective. Use this point as inspiration to innovate what you offer by finding different ways to get people active.
Quick facts
The new 'WHO Guidelines on Physical Activity and Sedentary Behaviour' were launched on 26 November 2020.
The WHO published its previous 'Global recommendations on physical activity for health' on 30 November 2010.
1 in 4 (27.5%) adults and more than three-quarters (81%) of teenagers don't meet the 2010 recommendations*.
Doing 150+ minutes of moderate intensity physical activity each week can increase global GDP by 0.15%–0.24% a year between now and 2050*.
All physical activity counts and is good for long term health*.
*Source: British Journal of Sports Medicine
This article is featured in ISCA's Annual Report for 2020 – read the full report here.
Related story: Use the new WHO Guidelines on Physical Activity to influence the influencers