30/7/2019
How my team of three started a Sunday Open Streets tradition in Vilnius:
Interview with Mantas Paulauskas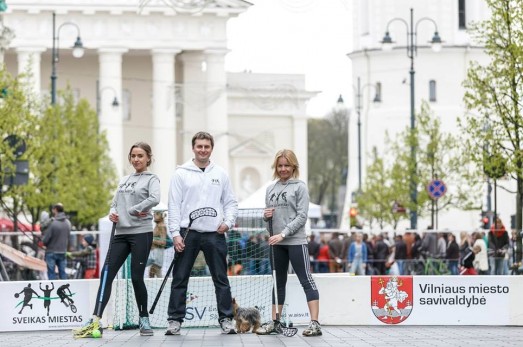 Organising an Open Streets Day event may not seem like an easy task. After all, it does require a tremendous amount of planning, logistics and networking.
For the past few years Open Streets events have been taking place regularly in urban areas of Lithuania, and they have been incredibly popular. We got in touch with Mantas Paulauskas from Sveikas Miestas (lit. "healthy city") – one of the organisations behind the success of Lithuanian Open Streets projects – to find out more about the challenges and rewards of "activating" a city.
Together with his small team of three sport and physical activity enthusiasts (pictured above), and in collaboration with ISCA member LKSKA Nemunas, Mantas (centre) started with a car-free Sunday Sports Day in the heart of Vilnius which became so popular that it has now become a regular event in the capital that local clubs are knocking on his door to join.
ISCA's Marie Oleinik asked Mantas how the event became such a big success.
How did you get into organising Open Street events in the first place? What inspired you to start?
The main idea was to make sport a fashion in Vilnius city. Our team just started to think, "how can we do this?" What would be interesting for all people – from children to adults, for all Vilnius guests from different countries? Not all people are able go to gyms, and surely not all people want to do it. So, in order to make people healthier, we decided to create special open sports and healthy living events, projects in open city areas. One of them – SUNDAY SPORTS DAY on the main street of Vilnius – Gediminas str.
What is the most challenging part about organising an Open Street event?
Our team is very small, so it was not easy to do different kinds of sport programmes, to invite all sport clubs for every Sunday from May to September. But this project became so popular that sport clubs, trainers and organisations for healthy living eventually just wanted to become a part of it.
How do organisations in Lithuania work together to bring the project to life – what is the contribution from each side?
Open Street events are the best way to showcase what all organisations are doing in their clubs, to represent their activities and news. In this way collaboration looks very easy – we would like the Vilnius municipality and all sport and healthy living organisations to be a part of these projects. They provide open demonstrations of different kinds of sports, special areas there they can organise their activities and invite people to try it. It makes their club, organisation and sport more popular because if people enjoy it, they will seek more information. It is an extremely efficient way for the organisers to get more exposure, and for people to become more active.
How can local communities benefit from having Open Street events?
It is an amazing way to unite local communities: more smiles, more people who are healthy and active. Open Street events provide an example for the residents of how they can spend their free time in an active and healthy way.
Open Streets Day is an official #BeActive European Week of Sport event supported by the EU's Erasmus+ programme and takes place in Europe on 22 September 2019. Register your free event here.