28/5/2019
How I moved Oman on No Elevators Day:
Interview with MOVE Agent Ahmed Al-Suleimani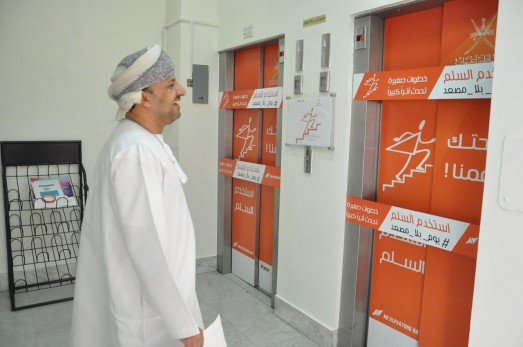 "Your fitness is important: Move your body." This message was a milestone for the NowWeMOVE campaign as it was one of the very first ever published in Arabic - and it achieved the desired impact. It's not easy to inspire people to exercise in the scorching desert heat for their health and wellbeing. But Ahmed Al-Suleimani triumphed this April around No Elevators Day, as he got a national ministry, university, telecommunications authority and companies to seal off their elevators and get their employees climbing the stairs.
"The event went viral that day in Oman, however there was a side conversation related to some internal issues here in Oman," Ahmed says. "Four places organised the event and I registered them on the No Elevators Day website. They included the Ministry of Sports Affairs, Alhabib real estate company, the National University of Oman and the telecommunication regulatory authority. The Ministry of Sports Affairs was the most active place. They organised many events and they left the posters there after the event."
Ahmed started his own Twitter handle especially for the event @noelevator_oman and translated the official promotional materials into Arabic – including an animated gif of an Omani mascot climbing the stairs. His campaign ran from 13-25 April and amassed over 31,000 impressions on Twitter.
How did he make Oman's first No Elevators Day a success, and what was his driving force behind getting involved? ISCA spoke to this young social entrepreneur who is making a big impact through his work at Youth Vision in Oman.
How did you find out about No Elevators Day?
Actually it was a coincidence. I was running a campaign in my workplace and I called it No Elevators. The campaign is about encouraging staff to use the stairs instead of elevators. There are 26 staff in my building who pledged to never use the elevator in 2019 or at least use the stairs once a day to go up to the office. The building has 8 floors and our offices between floor 3 and 7. Every day I search the internet to find quotes or pictures to send it to the participants and encourage them to continue the big challenge. One day I found your website and I used one of your posters then I contacted Dominik Sandler (No Elevators Day 2019 coordinator) and he was very supportive to make the event happen in Oman.
Why did you decide to support it?
Last year I decided to follow a healthy lifestyle. I was overweight and had to lose more than 20kg as my health condition was going in the wrong direction. I started going to the gym doing crossfit training and eating healthy food. Then I realised that I have to make all my lifestyle active and healthy so I started my personal no elevator challenge where I climbed 120 steps every day to my office. I found that the idea of spreading healthy lifestyle messages would make big impact in my society and to local individuals, so I was following and reading about all these kind of activities and campaigns related to healthy lifestyles and I wanted to bring them here to Oman. We do have some campaigns about these kinds of issues but I found ISCA's activities and initiatives are very professional and they worth spreading worldwide. I am also interested in sharing good behaviours and this is what ISCA is doing in the world. I am looking forward to having further collaboration and to do other events here in Oman with the guidance and support from the ISCA and other teams.
What attracted the ministry, the university and companies to support the event?
The secret is all about finding the right people. When I decide to bring No Elevators Day to Oman I knew some people who would add value and make the event happen in Oman. I chose my team members carefully and they did wonderful work together. The ministry was the government representative in the event. They showed great interest in the event and they gave us all the support we need. They were very active that day and I would say they were the best place to conduct the event.
The National Science University participated in a continuation of their sports week. They have a football tournament and they want to encourage their students to do physical activities. The companies were participating as a part of their employees' public engagement. They wanted their staff to be active during work hours and make a good impact on their work progress.
In addition to all of that, many individuals participated in the event by themselves and have continued to use the stairs after that day.
Visit the No Elevators Day Oman Twitter page to see the take-up of the event in Oman
Find out more about No Elevators Day – it's free to join in and start planning for next year's edition on 29 April 2020
Interview and story by Rachel Payne, ISCA
Photos courtesy of Ahmed Al-Suleimani