24/10/2017
Growing the MOVEment: ISCA General Assembly looks to the future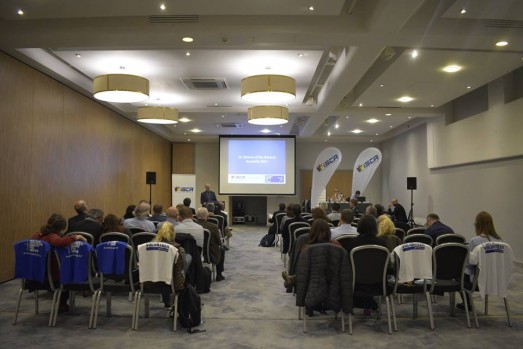 Held in Birmingham, UK, on 7 October, the ISCA 2017 General Assembly focused on 'growing the MOVEment', noting promising developments among ISCA's intercontinental network and among major global institutions. Adopting 32 new member organisations and voting for the board that will lead ISCA over the next two years, the ISCA network will step into the future with a strong emphasis on connecting sectors and sharing good practices between countries and continents.
With the full support of all member organisations present, Mogens Kirkeby was re-elected as ISCA president. Maria Luiza Souza Dias and Toni Llop will continue as ISCA Vice Presidents. The Executive Committee welcomed one new member with Carlo Balestri, from UISP, joining the board next to Liliana Ortiz, Detlef Mann, Jakub Kalinowski, and Phillipe Machu.
To continue ISCA's work on an intercontinental level, Jayne Greenberg, from the University of Massachusetts, and Maria Luiza Souza Dias, from Sesc São Paulo, will continue as chairpersons for the ISCA North and Latin America regions. New projects in the Asian and African regions will be led by chairs Siu Yin Cheung, from the Gymnastics Association of Hong Kong, and Ashraf Mahmoud, the President of the Egyptian Sports Culture Association.
Both regions have good potential to develop new sport-for-all activities. As stated in the ISCA Asia report, some recommendations include building a strong network among Asian countries to share good practices, and establish a website or alternative internet communication system between partner countries.
Next to the newly selected Committee and Board, the General Assembly adopted 32 new member organisations to ISCA network, thus growing the overall number of ISCA members to 235.
As of 2015, the ISCA General Assembly is held only every other year, therefore the ISCA President Report featured highlights from the past two years. Moreover, Kirkeby noted that there is a growing external interest in MOVING People at a global level. This August, a draft Global Action Plan for Physical Activity was published by World Health Organisation and, after receiving feedback from stakeholders worldwide, it is set to be adopted next year.
For ISCA, Kirkeby said, it is important to point out two parts of the draft:
• WHO's goal: 100 million more active citizens
• A human rights-based approach
Kirkeby pointed out that it's encouraging to see health and sport ministries becoming more and more ready to consider and prioritise physical activity.
By Triin Ilves, ISCA
The minutes from the ISCA General Assembly 2017 can be downloaded below