25/11/2011
Golden Temple amazes Delegation from Ecuador
The South American Delegation led by Director of Tierra Negra International Organisation, Mr. Carlos Jonathan Minota got mesmerized by the Spiritualism of The Golden Temple, Amritsar. Ecuadorians were mesmerized by the beauty of this place of world harmony.
'The Golden Temple Amritsar is the most beautiful place, I had ever seen in my life', remarked Mr. Carlos and Mr. Silvano.
Dr. Davinder Singh Chhina, the Director of Punjab Cultural Promotion Council and member of ISCA (International Sport & Culture Association) told media that PCPC had already hosted record number of 21 folk delegations and student groups from Danmark, Belgium, Bulgaria, Poland, Thailand, Argentina, Slovakia, Czech Republic, Colombia, Hungary, Russia, Greece and other countries in the last more than a decade. "Many more International-students and folk ensembles are keen to explore the heritage of Punjab and visit the Golden Temple, Amritsar, in the coming January – February and participate in Amritsar Int'l Folk Festival 2012" disclosed Dr. Chhina.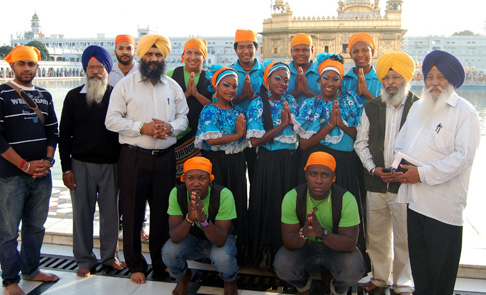 PCPC invites more delegations to Punjab
'We got eternal peace by visiting The Golden Temple, Amritsar. This is the great place on this earth and we prayed for our families, humanity and global -peace here' said Ms. Diana and Ms. Monica Catherine.
The South Americans promised to highlight the great traditions of Punjab, Punjabi- hospitality and Multicultural -Punjab, in the South-American media, after reaching back, Quito and Esmeraldas.
"PCPC has been voluntarily spearheading, The International- Education- Cultural -exchange programs, in Punjab, since December 2002. Culture-sports in Punjab should be put in the top-gear, so as to save the younger generations, from the onslaught of drug-menace," suggested Dr. Chhina.