15/11/2012
GGGS DILLEMMAS AND CHALLENGES
THE LONG JOURNEY TOWARDS GOOD GOVERNANCE
Defining and implementing a good governance is a long journey, one of those that require engagement, commitment and long term thinking and leadership, one of those you will never find a map or GPS to follow but one of those for which it is priceless to get a compass.
Indeed governance is a multidimensional and complex issue involving many key areas to think about: policy, people and process. Furthermore, the specific nature of grassroots sport means we need models of good governance that are relevant for our organisations and for our sector!
Here are some of the dilemmas and challenges we have been identifying together with GGGS partners and participants during the trainings.
Respect the Democracy and accountability principles
DEFINING THE OBJECTIVES OF THE ORGANISATION
"When thinking about good governance we shall not focus too heavily on procedures. Good governance has most and foremost to deal with a way of being, organizing and thinking! Procedures and tools should be seen as a mean of and not a purpose in itself! They should in fine serve the goal and vision of the organisation. The vision/mission should remain the most important things for an organisation, its compass, its 'raison d'être'."Jean Camy, University of Lyon, France
"We as a board need to define how to drive a common goal and set a common direction".
Dorte With, DGI, Denmark
ENSURING BALANCE OF POWER
"Ensuring a balance of power is a crucial way to legitimate the organisation. Our challenge as organisations is therefore to establish a shared power between elected members but also between elected and staff member"
Jean-Claude Arnaud, member of ISCA Executive Committee.
"We don't currently look at is the effectiveness of the board as a whole. We look at individual roles but not the sum total of these roles and how clubs need to ensure a balance of power on the board and effective operations as a team."
Patrick McGrattan – Belfast City Council, United Kingdom.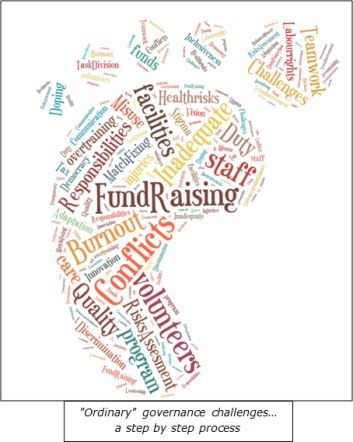 Work towards the inclusivity principle
LEADERSHIP AND DELEGATION
"Leadership is a two way street - nothing can be done in isolation. This might be a key challenge for sport for all organisations but also a key for success."
Marian Murphy, Special Olympics Europe Eurasia (SOEE), Ireland
"At the very moment sport organisations are facing the challenge of inclusiveness. They should offer access for all members to responsibilities. We need to empower new leaders. Currently the majority of board members in grassroots sport organisations are seniors (60+ years and men). It is necessary to find young and women. We shall consider positively the diversity of statutes and interests of people. Diversity brings richness not only complication!"
Jean-Claude Arnaud, Member of ISCA Executive Committee, France
"The specific nature of grass roots sport means we need models of good governance that are relevant for our organisations and for our sector! We cannot expect a common, "one size fits all" solution but can offer "a lens of investigation" and develop ideas to find the right solution for your organisation."
Simone Digennaro, University of Cassino and Southern Lazio, Italy
"Romania is still in a transition from the totalitarian times, and adaptation of the sport system to a liberal democracy based on civil society is a big governance challenge."
Mihai Androhovici, Romanian Federation Sport for All, Romania
Develop the transparency principle
CLEAR COMMUNICATION AND TASK DIVISION
"When the growth of the management is quick, the board can struggle to retain authority of decision making powers, particularly when board members are volunteers. Furthermore the lack of specific deliverables assigned to board members because of their volunteer status (when managers have job descriptions and clear goals). Therefore, defining and assigning precise tasks to all the parties are of crucial importance and a major challenge for our organisations."
Tarmo Volt, Estonian Sport Association JOUD, Estonia
"We need to recognize that our ability to meet our goals depends also on maintaining financial performance that encourages investment in leading-edge research and development. We need to provide honest, accurate and timely information to our shareholders about our performance and to make clear public reports and communications."
Participants from the 1st Training in Italy.
RISK ASSESSING: BALANCING VALUES AND FUND RAISING
"Thinking of the financial dependence and the mismatch of values is a crucial point. Should we adapt the organisations values to the funders? Where to set the limits? Can I accept all kind of money if it helps me to deliver the organisation mission?"
Toni Llop, UBAE,Member of ISCA Executive Committee, Spain
"We are facing challenges with the commercial sector, on concurrency level and financial level. Investments are needed but the financial situation does not always allow it. How to stay on the market as NGOs?",
Herbert Hartmann, DTD, Germany.
"No organisation works independently. It is our challenge to be open and receptive to working in partnership, flexible to change and understand stakeholders' expectations and motivations."
Filippo Fossati, UISP President, Italy
TO FIND ALL THE GGGS CHALLENGES AND DILEMMAS, CLICK HERE>>>