7/4/2016
Get ready for No Elevators Day on 13 May 2016
Download everything you need at nowwemove.com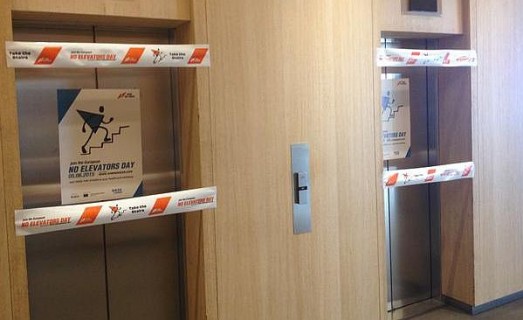 With just a few posters, some sealing tape and a good sense of humour you can help your busy colleagues, classmates or fellow citizens put some physical activity into their day and promote the cause in a fun and interactive way.
No Elevators Day is happening on Friday 13 May this year, and you can download all of the resources you need to promote the day in your office building at nowwemove.com. Remember to register your event and use the hashtags #NoElevatorsDay and #NowWeTakeTheStairs to share your achievements on the day.
Last year there were No Elevators Day event organisers in 60 cities and 21 countries around Europe – from regular citizens to local health and educational organisations, corporate CEOs, as well as politicians from the European Parliament and the European Commission.
All activities under No Elevators Day title are voluntary and take into consideration the accessibility requirements for people with disabilities and medical conditions.
Find out how to organise your own No Elevators Day event here