3/6/2016
Get ready for MOVE Week in Latin America this November!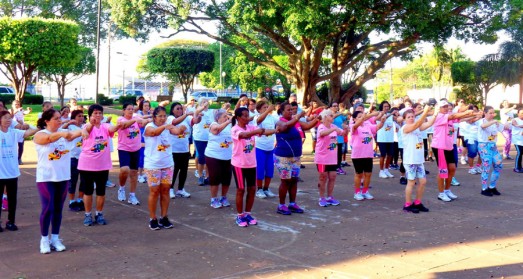 The fifth edition of the European MOVE Week wrapped up last weekend, and soon it will be time to MOVE Latin America! It is now confirmed that the fourth edition of MOVE Week Brazil (Semana Move Brasil) will take place from 19-27 November.
In a country where more than half of the population states they are sedentary, according to the Ipsos research (2013), Vigitel (2014) and Diesporte (2014), initiatives to turn this scenario around are essential.
The MOVE Brazil campaign, inspired by the NowWeMOVE campaign, launched MOVE Week Brazil (Semana Move Brasil) in 2013 with the participation of seven MOVE Agents (Movedores) and 100 thousand people joining in. In 2014, MOVE Week Brazil (Semana Move Brasil) grew, with more than 367,000 people participating in events carried out by 27 MOVE Agents (Movedores). In 2015, the initiative had 42 MOVE Agents (Movedores), more than 5,409 activities planned in all 26 states and in the Federal District, and 40 sports arenas in all Brazilian regions. And the week expanded to Latin American countries outside of Brazil for the first time, with Argentina, Colombia, Peru and Uruguay all offering events in the same week.
Participating in MOVE Week Brazil (Semana Move Brasil) is very simple: You just have to plan a sport or physical activity of any size, anywhere in the country. Or follow the events offered on the website and join in your favourite event.
If you are part of an organised group, institution or company that aligns with the objectives of MOVE Brazil, you can become a MOVE Agent (Movedor) of the campaign. More information by email [email protected] or in the website.
This year, MOVE Brazil plans to increase the number of activities in its cities and that relies on the participation of a large number of people. Their goal is to move one million Brazilians during MOVE Week Brazil (Semana Move Brasil) 2016!
If you are in Brazil, take the opportunity to join your national campaign. If you have family, riends, colleagues, encourage them to get behind this MOVEMENT as well. Share your MOVE Brazil experiences and together we will make Latin America MORE ACTIVE.
Translated and adapted from an original article by MOVE Brazil. Read the Portuguese version of the article here and stay tuned, you can find more about MOVE Brazil here.
Read more about what Brazil's Movedores are planning for MOVE Week this year (in Portuguese).