15/11/2012
FROM EUROVOLNET TO GGGS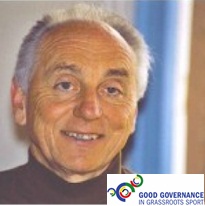 SECURING THE SUSTAINABILITY AND SPECIFICITY OF THE SPORT FOR ALL SECTOR
The life expectancy and the value of grassroots sports organisations rely on two main pillars: volunteers and good governance.
This is the message from Jean Camy, University Lyon 1 (France), who has been involved in the management of several European sport-related organisations and has been taking part in the most recent two EU-funded projects run by ISCA.
He shares with us his expertise and lets us know why it is so crucial to clearly establish the roles and responsibilities for the board, management, staff and volunteers, and how this is all connected to good governance.
Why do we consider his input as priceless? Prof. Jean Camy has not only contributed as a sociologist observing and analysing sport activities and organisations for forty years, as a "specialist" in human resource management in sport organisations but he also has strong practical experience of governance having chaired several French and European non-profit sport-related organisations. A mix of expertise, skills and competencies that simply bring us to the next level!
Enjoy the read!
1. You have been a guest expert at the Good Governance in Grassroots Sports' second training course for top political leaders in Tallinn this November. Can you share with us your thoughts about what good governance is or should be?
JC: "It is a difficult question that would require a long answer. But I would like to highlight one very special thing that is of utmost important to me.
When thinking about good governance we should not focus too heavily on procedures. Good governance is first and foremost about a way of being, organising and thinking.
Of course we do need procedures and tools for good governance to be implemented but they should be seen as a way of working and not a goal in themselves. They should in fine serve the goal and vision of the organisation. The vision or mission should remain the most important things for an organisation – its compass, its "raison d'être".
2. Indeed how can we ensure that organisations do not lose their "raison d'être" and to what extend it is linked to good governance?
JC: "As far as I see, sport for all organisations are ad hoc ones, which means that they stem from the need and interest of their members.
So we should accept the idea that organisations have a life cycle and keep in mind that when the members' interest disappears they should die.
Good governance is all about finding a good balance. It is the task of board members to ensure that organisations are driven by a mission and not by the needs and wishes of the staff employed there.
This should secure the specificity of sport and the peculiarity of sport for all."
3.What do you believe are the other tasks of the board? How can we ensure that the roles and responsibilities for the board, management, staff and volunteers are clearly defined?
JC: "It is in fact crucial to realise that when thinking good governance we need to keep in mind that in any organisation there is a division of labour process... then the question is: is this division of labour in fact really clear? This requires organisations to consider whether responsibilities and roles have been formalised.
I always advise using Mintzberg's model of organisation to clearly define the role and responsibilities.
Sport organisations need to make sure they coordinate activities and tasks but also that the way and style of coordination is understood by everybody and is relevant.
I would finally add that "Associations are 'mission led' organisations" (Mintzberg). This very specific situation clearly highlights the reason why we cannot use models from other sectors which have been the reference for most of the management science! We have to leave with the contradiction that arises from this statement and from the division of labour."
4. The board does indeed have a key role to play in developing an approach to good governance. Yet what is the key to ensure that its members can work effectively together as a team? What are the important personal qualities and interpersonal skills of board members when it comes to good governance?
JC: "I like the concept developed by Kalzenbach and Smith regarding high performance teams/boards.
To my mind, the key dimension is shared leadership. We should forget about the idea of THE charismatic leader and give each one his/her place. A good leader is someone who is able to create an environment where everybody is able to play a part. He should consider positively the diversity of statutes and interests of people. Indeed, in boards such as in life, diversity brings richness not only complication!"
5. How do you see the role of ISCA and EU in the promotion of good governance?
JC: "Well for me the role of the European Union should be to identify well-structured organisations with a strong dissemination potential. In times of financial crisis, we cannot allow ourselves to throw good money after bad: it's not enough to identify some guidelines and good practices, we also have to ensure that as many people and organisations as possible are aware of them. Furthermore, having this broad network also means that you are able to build upon cultural diversity but also ensure the outcomes are understandable and receivable by many.
In that sense, I do believe that ISCA can play a major role because of its network and ability to spread the word but also since the philosophy behind the GGGS project is a holistic and comprehensive one stating that thinking about governance implies taking into account different cultural, historical and organisational background."
6. Finally, how do you see the future of sport? What can we expect for the next generation of volunteers?
JC: "It is common knowledge that sport is currently undergoing a trend towards professionalisation. As a consequence, it is considered more and more as a business.
I believe this change in the representation of sport is a major threat. When the old generation of traditional volunteers "retire", who will be willing to volunteer in a professionalised, sometimes commercially-oriente, sport organisation?
We need to work hard on differentiating the multiple dimensions of sport. I am convinced that sport has to present itself as a unique system but yet also to make sure the different approaches inside the system are clearly defined.
I would advise promoting small volunteer-based clubs as role models for the future of sport for all. I imagine a lot more decentralised systems for sport for all characterised by federations and umbrella organisations as services and guidelines providers and very autonomous small, local-rooted clubs.
To my mind, if federations keep promoting the professionalisation of organisations, the sport sector will lose its volunteers. There will always be volunteers in our society but they will move away from the sector if nothing changes in our approach."