24/2/2014
First a step back – and then charge forward:
Capacity building essential before initiatives are ready to launch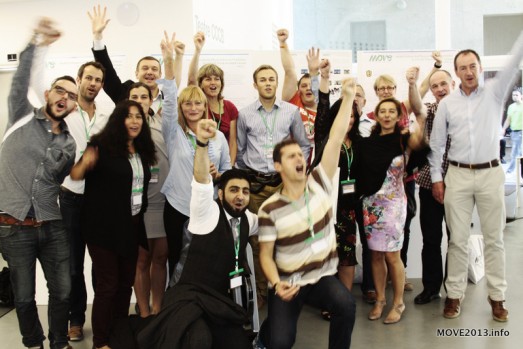 When the MOVE Associate and Collaborating Partners embarked on this project, they knew that more action was needed to engage socially disadvantaged groups in sport and physical activity. They knew that taking action involved creating initiatives to give these groups better opportunities and motivation to join in. What they soon discovered was that before you move forward and create something new, it's important to take a step back and look at what's been done before.
That's why the MOVE project started off with collecting examples of existing initiatives for socially disadvantaged groups and identifying all of the good practices they could find among them. It was only then that they could pinpoint the common attributes of programmes that worked and subsequently reflect on their own initiatives' strengths and weaknesses. The three main factors they agreed were essential in delivering effective offers to these groups were networking, sustainability and quality management.
At the MOVE Congress 2013 in Barcelona last October, Alfred Rütten from the University of Erlangen-Nuremberg, Germany, an Associate Partner in the MOVE project, emphasised how important it is for organisations to assess and build their own capacities so their initiatives can meet these key attributes.
"If you think about dissemination and implementation of good practice, then you also have to think about capacity building, because organisations need to have the resources and infrastructure to implement or transfer a good practice to a different context. It's not something that you find out from research and then say to clubs here and there to implement something – you have to much more actively involve organisations in the process and that's what we've tried here," he said.
Learn, develop and – most importantly – share!
Both Rütten and Niamh Murphy from the WHO Europe Advisory Group on Physical Activity Promotion in Socially Disadvantaged Groups stressed at the MOVE Congress that for the capacity building process to be effective, it is not enough for stakeholders to acquire and apply knowledge to their own organisations, but to actively share and learn from each other's experiences. In her presentation on the WHO's PHAN (Promoting networking and action on healthy and equitable environments for physical activity) project, Murphy looked back to previous EU-supported projects on physical activity and social disadvantage that have been forgotten or simply overlooked since their completion.
"Over the last two-and-a-half years, the EU has funded five different projects promoting physical activity in socially disadvantaged groups," she said. "When you go to look now – and this is only two years on – for the documents they have produced, they're really hard to find. They're not easily accessible and that's a pity. We've done a pretty bad job of sharing amongst ourselves."
The MOVE online forum was borne out of the MOVE partners' aim to share their own experiences effectively among themselves, as Rütten explained.
"At the beginning of the project we asked: How can we create a learning situation between the partners? The first idea was to create themed partnerships where one collaborative partner could learn from the other with regard to networking, sustainability or quality management. All of the partners had something to offer, but they also had weaknesses where they could learn from each other. So in the end it turned out that they preferred to have a shared mentorship approach."
Pilot projects ready for launch
The culmination of the MOVE project's capacity building process was the 15 pilot projects the Collaborating Partners launched in their own communities. Having fine-tuned their initiatives with advice and inspiration from their counterparts in neighbouring European countries, these organisations successfully engaged people from challenging socio-economic backgrounds, youth, seniors, girls and women in programmes that had a positive impact on their lives. This series of articles zooms in on some of these initiatives.
By Rachel Payne, ISCA