21/12/2010
European Parliament adopts written declaration on increased European Union support for grassroots sports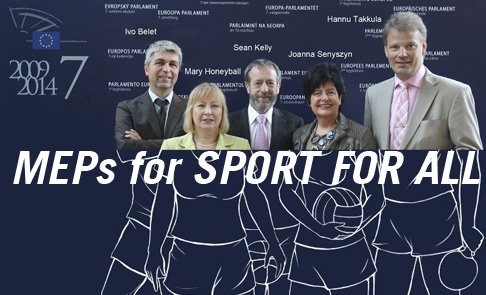 On September 14, 2010 a cross-political group of Members of the European Parliament composed of Joanna Senyszyn, Ivo Belet, Mary Honeyball, Seán Kelly, Hannu Takkula launched a Written Declaration to increase EU support for grass-root sport. ISCA President, Mogens Kirkeby, called the written Declaration 'a milestone in the political engagement in sport at European level. It is a very encouraging and visionary political initiative.'
On December16, 2010 a majority of 385 Members of the European Parliament adopted the Written declaration 0062/2010 on increased European Union support for grassroots sports. The declaration calls for 5 measures to be implemented by European Union institutions and/or EU member states.
5 measures suggested
1. Calls on the Commission and Member States to promote sport for all, strengthening its educational and integrating role, with special attention paid to under-represented groups such as women, seniors, and disabled people;
2. Calls on Member States to ensure that grassroots sport does not suffer from major budget cuts in times of crisis;
3. Calls on the Commission to pay the necessary attention to grassroots sports in the upcoming Communication on sport and to ensure sufficient funding for the EU Sport Programme from 2012 onwards;
4. Calls on the Commission to take due account of the results of the study on the financing of grassroots sports with regard to a possible EU initiative on gambling issues;
5. Instructs its President to forward this declaration, together with the names of the signatories, to the Commission and the Parliaments of the Member States.
ISCA pushed hard for the adoptation of WD0062/2010
ISCA has been greatly involved in promoting the adoption of the declaration, through direct contact to all members of the European Parliament, a series of speeches at the European Parliament and direct assistance to the MEP sponsoring the declaration.
ISCA President Mogens Kirkeby points out that 'this is a strong political signal from the European Parliament. The support to the Written Declaration combined with the conclusions from the Sport Minister meeting on November 18, strongly underline, that grassroots sport should be the European Union's priority within the sports field in the years to come.'
Kirkeby concludes that 'this is a very wise prioritization by both of the Parliament and the Council. It is definitely within the grassroots sport sector future successes for EU interventions lie. The grassroots sport is about the well-being of the European citizens, which is one of the objectives of the European Union.
We expect that the political signals to support grassroots sport will be very strongly reflected by the up-coming Communication on Sport by the European Commission'.