21/12/2010
EU institutions and sports sector start new collaboration
European Union Structured Dialogue on Sport
The Belgian EU Presidency, led by Flemish Minister for Sport Philippe Muyters, brought together representatives of the EU institutions and the sports sector. This was done for the first time within the framework of the new Sport Council. During this informal meeting, they discussed the future EU collaboration in the area of sport
"Together with the Commission and Parliament, we have decided to conduct a regular dialogue with stakeholders from the world of sport", said Philippe Muyters, Flemish Minister for Sport and Chairman of the Sport Council.
The exchange of views focused on the results of the Council, the future of the structured EU dialogue and topical issues such as the way in which the EU will give shape to the new competence on sport, the financing for sport, social inclusion in and through sport, volunteering in sport and integrity in sport in various aspects.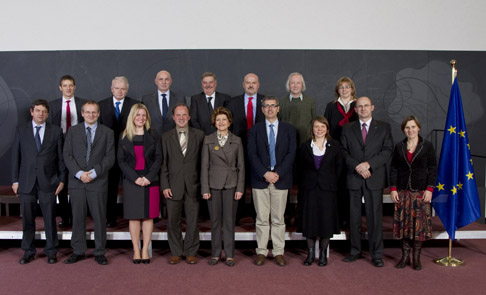 ISCA Europe welcomes this initiative
Filippo Fossati, Uisp national President and chairman of ISCA EUROPE, was participating in the event underlining the willingness and need for close cross-sectoral cooperation. "It's a very important fact that European Commission created this Advisory Committee to valorize the contents of the White Paper on Sport, namely the promotion of the social value of sport", said Fossati. "This meeting produced an agenda of priorities, including the fight against doping, campaigns to promote the value of sport as an active driver for social inclusion and the fight against illegal activities in the football world".
Opinion of stakeholders valued
One year after sport became a formal EU competence, the Council is now sending a clear signal to stakeholders from the world of sport that their opinions are valued. "After all, they know best what is happening in the field", explains Muyters. "We need to collaborate in order to bring sport a step further in the EU and to seize this new opportunity for the benefit of EU citizens."
The impulse for the meeting was the Resolution adopted by the Sport Council on November 18. The EU Ministers for Sport reached an agreement on reinforcing the EU dialogue with the stakeholders from the world of sport, and providing a platform for an ongoing exchange of views regarding priorities, application and follow-up of the EU collaboration in the area of sport.
Guests
The European institutions were represented for the Council by the Team Presidency (Spain, Belgium, and Hungary) and Poland as a member of the next Team Presidency, the European Commission was represented by Commissioner Androulla Vassiliou and the European Parliament by MEP Emma McClarkin.
In light of the importance of social inclusion and Sport for All indicated at the recent Council meeting, the Belgian Presidency opted for inviting representatives of the European Olympic Committees, the Association of European Team Sports / UEFA, the European Paralympic Committee, the European Nongovernmental Sport Organisation and ISCA Europe to the meeting.
The meeting took place in a positive and constructive atmosphere. The Hungarian Presidency announced to organise the next meeting in the margin of the following Sport Council.