19/9/2017
Erasmusx10 campaign aims to give Erasmus+ budget a massive boost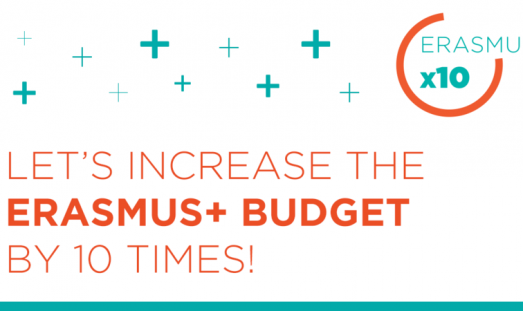 What would €2.66 billion mean to the sport and physical activity sector in Europe?
If the new Erasmusx10 campaign from the EU's Lifelong Learning Platform, European Youth Forum and Eurodesk gathers enough momentum and supporters, we could soon find out. If the campaign succeeds, it will increase the Erasmus+ programme budget by TEN times. To put this equation into perspective, it could, for example, raise the number of Erasmus+ Sport Collaborative Partnerships projects granted from 600 to 6000 – a mobilising force that would potentially support thousands more grassroots sport organisations, NGOs, local authorities and other stakeholders in our sector.
The Erasmus+ programme is already distributing €14.7 billion to initiatives in education, training, youth and sport over a period spanning from 2014-2020. But as Erasmus+ celebrates its 30th anniversary this year, speculation about what the next steps will be for the programme and calls from stakeholders including the President of the European Commission, Jean-Claude Juncker, to increase its budget have also followed suit.
These calls have culminated in the Lifelong Learning Platform's Erasmusx10 campaign and petition to convert talk into action. The campaign was launched last week and over 1000 people have already signed the petition.
ISCA supports this initiative, and our diverse network of members, partners, previous volunteers, MEP supporters (such as Julie Ward from S&D), and other EU stakeholders are voicing their support on social media and the camapign's official website http://erasmusx10.eu/
Former ISCA volunteer Valentin Dupouey Sterdyniak, who worked at ISCA in 2013-2014 as part of the Erasmus+ European Voluntary Service and is now Secretary General of the Young European Federalists, writes how the Erasmus+ programme has powerful potential to kick-start a young person's career and engagement in society as part of the EU.
"I've had the chance to take part in Erasmus+ studies thanks to Université de Strasbourg, an Erasmus internship thanks to EUSA - European University Sports Association, a European Voluntary Service and youth exchanges thanks to the International Sport and Culture Association, and to be on the other side as an Erasmus project writer/manager/evaluator thanks to the Erasmus Student Network and Young European Federalists [JEF]... all life changing experiences," he writes.
"I wish all young people in Europe could experience them! Erasmus is the embodiment of European Citizenship, and of meaningful interaction between citizens!"
Find out more about the Erasmusx10 campaign and sign the petition at http://erasmusx10.eu/
By Rachel Payne, ISCA
The graphic is the official graphic and logo of the campaign