25/9/2012
DESIGNED TO MOVE
CO-AUTHOR TO DELIVER KEYNOTE ADDRESS AT THE MOVE CONGRESS 2012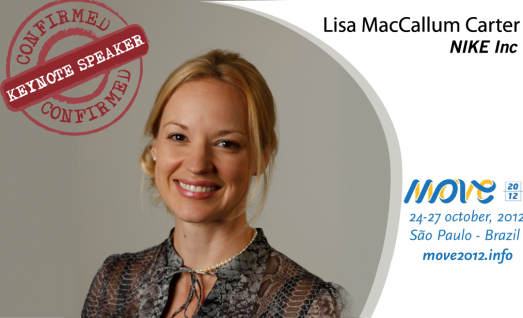 NIKE and 70+ Expert Organizations Look to Solve the Physical Inactivity Epidemic
We are delighted to announce Lisa MacCallum Carter as a keynote speaker for the MOVE Congress 2012.
Lisa is the Managing Director of Access to Sport, an organization supported by NIKE Inc dedicated to unleashing human potential by enabling and inspiring youth participation in sports, active play and increased levels of physical activity.
Lisa also served as Managing Director of the Nike Foundation, focused on investing in adolescent girls in the developing world. Prior to leading corporate philanthropy efforts, she served in several business leadership positions including Strategic Planning Director for Nike's USA Region and Business Development Director for Nike's Apparel business.
Haven't you heard about Designed to Move (designedtomove.org) yet? Are you looking for inspiration and want to be part of this large scale awareness and communication campaign aimed at addressing the global physical inactivity epidemic?
Make sure to book your agenda, register for the Congress (more information here>>>) and attend Lisa's keynote address in São Paulo!
NOTE: ISCA has actively taken part in shaping the Designed to Move Framework for Action.
---

---