29/4/2016
Danish Bike to Work campaign joins forces with MOVE Week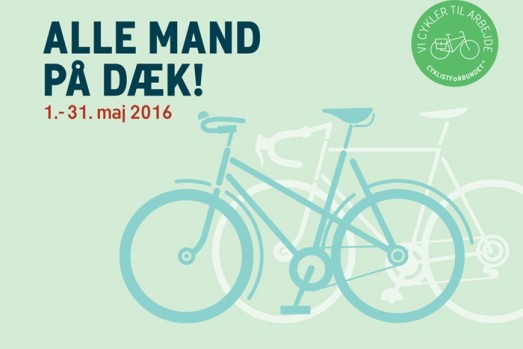 ISCA has entered into a partnership with the Danish Cyclists' Federation to connect the Bike to Work (Vi cykler til arbejde) campaign with MOVE Week in May. Bike to Work is an initiative that has promoted active transport in Denmark each May since 1997.
Last year over 71,000 participants registered to take part and clocked up over 771,300 days of cycling and more than 9.5 million kilometres from 1-31 May. The campaign is targeted at organisations and participants are invited to register as teams who compete against each other to cycle the most days. Notable companies taking part last year included Novo Nordisk, the University of Copenhagen and DONG Energy. All teams participating during MOVE Week from 23-29 May will also contribute towards the official 2016 MOVE Week tally, making it a double incentive to get involved.
Denmark is leading the way as a cycling nation with its world-class infrastructure for active transport, and there are five times as many bicycles as cars in its capital, Copenhagen. Denmark has also recently gained momentum in the NowWeMOVE campaign and European Week of Sport (EWoS), having staged activities for the NowWePanna tour and EWoS last year and preparing to host the start of the Journey of Hope cross-border cycling tour in August this year. And despite having an established culture for cycling, it attracted over 3000 "new" cyclists to join in the Bike to Work campaign in 2015.
The benefits of choosing active modes of transport such as cycling are underlined in Denmark's 2015 Bike to Work statistics. With 142,282 tonnes of CO2 saved in one month and over 11.5 million kroner in petrol and public transport tickets combined staying in the participants' pockets, the environmental gains stood out, and the potential reduction in sick days (over 12,000) makes Biking to Work a win-win for employers and employees alike.
ISCA Secretary General Jacob Schouenborg sees the new partnership with the Bike to Work campaign as an obvious collaboration that can give a boost both to the promotion of health-enhancing physical activity and active transport as a proven mobiliser:
"ISCA has partnered with European Cyclists' Federation since 2013 for the NowWeMOVE campaign and the MOVE Week. With the recent partnership in Denmark, we demonstrate the added value of combining active transportation with general physical activity promotion. At the same time, it is a great way to pool resources and build on what already works."
Maria Bech, Head of Communications at the Danish Cyclists' Federation, believes that the two campaigns joining forces can be an inspiration for other cross-sector partnerships across Europe:
"Half of all kilometers cycled in Denmark are to either a work or education, and every year the Danish bike2work campaign 'Vi cykler til arbejde' encourages people to choose their bike instead of their car. 'Vi cykler' til arbejde has been promoting commuting by bike for 20 years, so we hope the partnership with MoveWeek will inspire other countries to endorse active transportation as part of an everyday lifestyle" ,
says Maria Bech, head of Communications in the Danish Cycling Federation.
"Half of all kilometers cycled in Denmark are either to work or an educational institution, and every year the Danish Bike to Work campaign 'Vi cykler til arbejde' encourages people to choose their bike instead of their car. 'Vi cykler' til arbejde has been promoting commuting by bike for 20 years, so we hope the partnership with MOVE Week will inspire other countries to endorse active transportation as part of their everyday lifestyle."
Danish residents can register their teams of colleagues for the Danish "Vi cykler til arbejde" month at the official Danish website for the event http://www.vcta.dk/
Residents across Europe can show their support for the Bike to Work campaign in their country by visiting the Bike2Work European website http://www.bike2work-project.eu/en/ and sharing their experiences and messages of support using the #bike2work hashtag. They are also invited to register their own MOVE Week events, big or small, at www.moveweek.eu
By Rachel Payne, ISCA