19/8/2016
Danish active transport ambassadors give Journey of Hope a grand send-off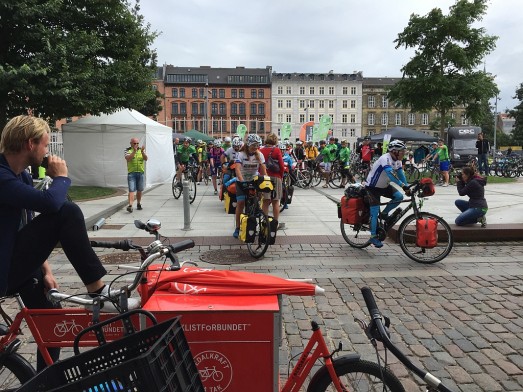 The #BeActive #JourneyofHope team cycled out of Copenhagen yesterday with over 50 recreational cyclists following them in a nod to Forrest Gump's famous long-distance run. The official start of the European Week of Sport event, which is carrying messages about active transport, physical activity and peaceful mobility around Europe, marked the beginning of a 31-day, 2530km ride from Copenhagen to Vienna.
ISCA member DGI and partner the Danish Cyclists' Federation ensured that the local cycling community grasped the opportunity to take part in the event and ride with the team to Roskilde, 40km west of Copenhagen. Some followers doubled their journey, riding all the way from Roskilde to Copenhagen, arriving in time to ride back again with the team.
DGI tempted passers-by to come and test their speed on its bike simulator and ISCA staff and the Danish child safety awareness foundation "Børneulykkesfonden" entertained the children on Israels Plads with spontaneous dances in the spirit of the #BeActive FlashMOVE, colouring in and biking activities.
Børneulykkesfonden ambassador and the City of Copenhagen's Mayor for Children and Youth Pia Allerslev knows what it takes to complete a long cycling trip – she rode from Copenhagen to Paris twice in support of a cause she believes in.
"I think it's very important to tell people that if you set a goal then you can do it and if you have the energy and the craziness to do things then it's perfect. And sending the signal that you can bike that many kilometres in 30 days, that's a wonderful story to tell," she says.
"As the Mayor for Children and Youth in the City of Copenhagen I think it's important to tell the kids, and also the parents, that when you live in cities it's very easy to go by bike instead of walking or taking the bus or car."
The Director of the Nordea Foundation, Henrik Lehmann Andersen, was also at Israels Plads to greet the team and is no stranger to long bike rides either, having cycled around Tasmania in Australia for instance. He says events like the Journey of Hope are a great way of showing that anyone can do the same thing if they have a bike, a good spirit and are ready for an adventure.
"[Cycling] is not just for specialists or extremely fit Olympic Games-looking people, it's for everybody. That's the main perspective and that's why we are engaging ourselves, as a Danish foundation, in sports and in cycling. It's not for the elite; it's for everybody. So to get everybody to do it, to get everybody committed and to get everybody to learn how to do it, that's the really important thing for us," he says.
The Journey of Hope opening event took place right on the Danish Cyclists' Federation's doorstep, and its Director, Klaus Bondam, who is a member of the new World Cycling Alliance created by ISCA partner the European Cyclists' Federation, praised events like the Journey of Hope that draw attention to active transport as a solution to sedentary lifestyle.
"I think every event that moves around promoting active mobility, is very, very important because it is one of the challenges in our society is facing these years: How do we, as human beings, become more active at a time where more and more of us are sitting down at computers? That activity can be recreational cycling, going on longer trips as we see here," he says.
The Danish Cyclists' Federation's Bike to Work campaign has seen continued success in a country that already has a strong cycling culture, but where people still use the car for 30% of trips spanning over 5km or less. So he still believes there is "enormous" potential to promote cycling to people anywhere in the world.
"We see that cycling can contribute to 11 out of the 17 United Nations' Sustainable Development Goals. For example creating resilient cities and helping to reduce poverty by creating affordable modes of transportation."
Not to mention to the average citizen in Denmark, where physical activity crazes like running are not always for everyone.
"The good thing about cycling is that it's basically for everybody," he points out. "I'm not a good runner because it makes my knees hurt. But when I'm on the bicycle, I think 'Whoa – I can do it!'"
By Rachel Payne, ISCA
The Journey of Hope is co-funded by the European Commission's Erasmus+ Sport programme and promotes the #BeActive message.