9/7/2015
Czech Sokol celebrates the 90th anniversary of its headquarters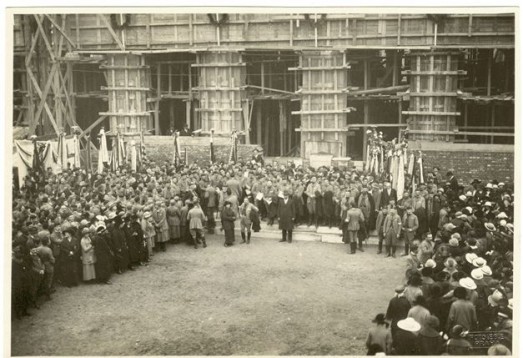 ISCA is not the only organisation in our growing network of grassroots sport organisations that is celebrating a milestone this year. The end of May was also a time for festivity for ISCA member the Czech Sokol Organisation as it celebrated the 90th anniversary of its headquarters, the so-called Tyrs's house, in the centre of Prague.
The week of 18-24 May was full of sport and cultural events, competitions, 'contemporary circus' performances and workshops focusing on parkour, street dance, tai-chi, rope skipping and other physical activities. The main event, a Saturday evening ceremony in the courtyard, started with a Sokol march, during which the Sokol guards placed a Czech flag at the foundation stone of Tyrs's house. This ceremonial act was followed by series of performances including gymnastics, traditional dance and joggling. As a final part of its week-long program Sokol organised an orienteering event on Petrin hill on Sunday afternoon.
The headquarters building, a baroque style Michna palace built in the 16th century, was bought by the Sokol organisation in 1921. The reconstruction started in 1923 and the headquarters was opened as Tyrs's house in May 1925. The opening was very well attended, even the Czechoslovak president T. G. Masaryk and other politicians and public figures were present at the ceremony as well as 15 000 Sokol members.
The Sokol sports movement and gymnastic organisation was founded in Prague in the Czech region of Austria-Hungary 153 years ago, in 1862 by Miroslav Tyrs and Jindrich Fugner. Miroslav Tyrs viewed Sokol as an organisation that cultivates both body and mind. During the history the Sokol movement has always been presented as the physical, moral and intellectual power of the nation and though being officially apolitical, the Sokol movement played an important role in the development of Czech patriotism. Between years 1948 and 1989 the organisation was supressed by the Communist regime, appearing briefly in 1968 before the Soviet occupation. The movement was revived in 1990, which indicates that this year Sokol is also celebrating 25 years of its resumption.
Visit the Czech Sokol Organisation website here
By Jana Stehliková, ISCA