3/10/2017
Copenhagen Runners High took local runners to new heights for European Week of Sport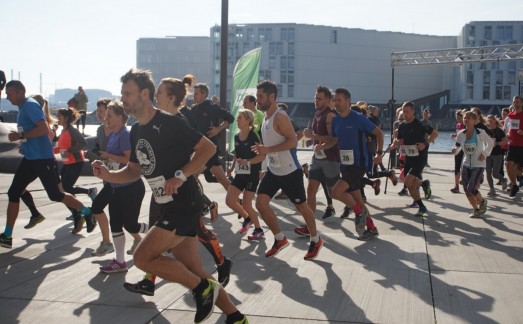 On Saturday 30 September, ISCA member DGI organised a good example of a small scale event during the European Week of Sport, the Copenhagen Runners High. The event was an urban trail run in Nordhavn, Copenhagen, which took a place in a very unusual location and challenged the runners in a different way from most running events.
The Copenhagen Runners High race was special because the runners had to climb up 136 steps to the top of Luders rooftop square. The race consisted of 5 laps of a 1.2km route in a very urban location. The Luders building consists of a parking hall and a rooftop complete with a workout area. Children, adults and seniors can all use the facilities for free.
The event is a good example of how urban spaces can be used for being physically active, and that it is not necessary go to a sports facility in order to be physically active.
Despite the strong wind, the sun was shining and the event attracted over 150 runners. The ISCA team was present and encouraged people to try out some European Fitness Badge exercises. Overall the event was a big success and is part of a series of similar trail runs in locations around Copenhagen.
Find out more about the European Week of Sport in Denmark (coordinated by ISCA)
Find out more about Copenhagen Runners High
By Kreetta Lapinniemi, ISCA