1/7/2019
CHANGE project to enhance skills in sport for development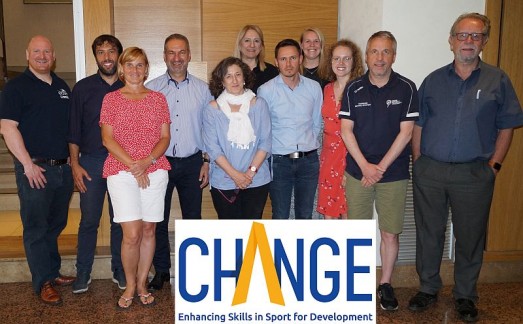 ISCA is a partner in a new Erasmus+ supported project that is mapping the skills and competences of people working in key roles in sport for development. The CHANGE project, led by the European Observatoire of Sport and Employment (EOSE), has brought together a unique combination of European umbrella bodies, a Government Ministry, two universities, three national sport organisations and a global sport for development organisation to pilot courses customised to this area of work.
The first meeting, hosted by the Italian Sport for All Association (UISP) in Rome on 27-28 June, kicked off the partnership and work plan for the project, which will conclude in 2021.
Understanding the potential of sport, examining how it is being delivered, and building a common understanding of the skills people need to be effective in their positions will form the basis of this collaborative project. The project is founded on the belief that sport has huge potential to change society and change people, but that to do so it needs a workforce of people with the right skills and competences, supported by a fit-for-purpose programme of education, training and professional development.
Through the CHANGE project, the partners will implement the EOSE 7-Step model for lifelong learning and apply the model to the area of sport for development. The project is aligned with EU policies in sport, education and Employment, in particular promoting education in and through sport with a focus on skills development.
A website for the project is under development and will be launched soon.
The partners look forward to sharing and engaging with the whole sport sector and particularly organisations and professionals working in sport for development. Interested stakeholders are welcome to contact the project team through EOSE.
Saska Benedicic Tomat, ISCA Head of Projects says "it is a pleasure for ISCA to be a partner in the CHANGE project to define skills and competence for sport for development. It is important to follow proven and sustainable concepts like the 7-Step Model developed by EOSE. It provides a safe place for organisational capacity building, as well as strategic guidelines for EU policy development in the field of sport and education".
Ben Gittus, Director of Standards for EOSE says "we're delighted to start work with this unique partnership to support the area of sport for development in Europe using the lifelong learning strategy promoted by EOSE known as the 7 Step Model".
CHANGE project partners: European Observatoire of Sport and Employment (EOSE); International Sport and Culture Association (ISCA); University of Cassino and Southern Lazio (UNICAS); Leeds Beckett University; The Greek General Secretariat for Sports; The Italian Sport for All Association (USIP); Sport Union of Slovenia (SUS); StreetGames; and Women Win.
Contact: Ben Gittus – EOSE Director of Standards – [email protected]