22/10/2011
Canadian Minister of Health Promotion and Sport addresses the MOVE2011 congress
health must be seen as a resource for everyday life
Ms. Margarett Best, Minister of Health Promotion and Sport of the Province of Ontario presented the efforts of her government to promote healthier lifestyles in the province of Ontario. She underlined that the foundation of a well-functioning society are healthy populations, as they benefit government, business and society at large.
Best asserted that "health must be seen as a resource for everyday life. Therefore the fundamental goal is to empower Ontarians to make healthy lifestyle choices at any stage of their life." Best emphasizes the role of government to regulate and create incentives through e.g. tax programmes that promote the utilization of healthy lifestyle options.
The government's policy focus relied on four thematic axes, namely a wide-ranging smoking ban, the prevention of diabetes, increased physical activity levels and the promotion of healthy food options.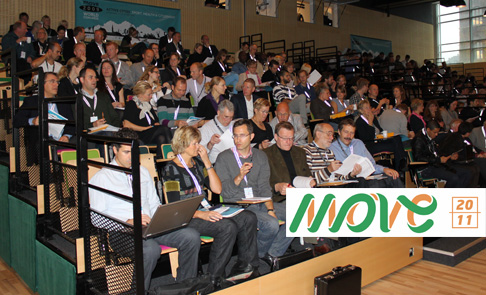 convergence of objectives within the fields of sport and health policies
Best reckons that the combination of the topic of health promotion and sports in one single ministry has indeed accelerated the developments in the field of sport and especially the field of health promoting sports. The minister identified a "convergence of objectives within the fields of sport and health policies, which will make it easier in the future to design effective policies and have stakeholders to chip-in with new programmes and initiatives."
The minister concluded by thanking ISCA for the opportunity to address the MOVE2011 congress and expressed her support for international events such as the MOVE congresses as they support the development and rethinking of the sports sector.