2/8/2010
CAMILA PROJECT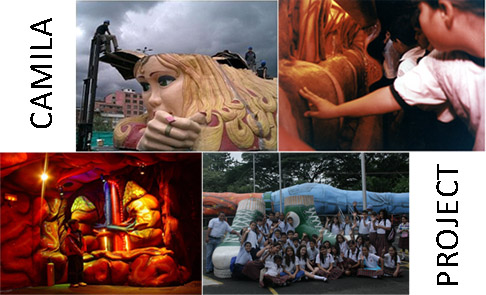 HEALTH CARE, HEALTH PROMOTION AND CHANGES OF HABITS
"CAMILA", the biggest woman in the world is an adventure through a giant pregnant body that offers support to children, young people, families and communities in general to identify risk factors and promote awareness of good habits of life, with the following measures; 50 meters of length, 8 meters of wide and 6 meters of height. The project deliberately takes to the population to the modification of reinforcing behaviors, with the intention of maintaining health, obtaining new styles of healthy life. This space is propitious for fun of children.
Twelve years ago our company EDUCACION ENTRETENIDA SA with the orientation of FUNDACION DEPORTE Y RECREACION PARA TODOS and ISCA initiated our intention to support professors and parents, in the complementary task of education of values and other educative activities; we have developed the effective method of education with entertainment that assures better understanding and retention the messages offered to our visitors.
Our objectives are to invite our visitors to know, to take care of and to love our body and the benefits that in each one of them are obtained by the practice of the regular physical activity and good nutrition. The whole idea is to act against sedentarism. It teaches how to prevent drug addition, alcoholism, early pregnancy and undernourishment. It is an unforgettable experience that allows the fixation of clear concepts since the receptivity of the messages is through the senses: tact, eyesight, and hearing, smelling and different emotions.
The visit to CAMILA give the opportunity to learn about the eight most important organs of a woman body such as the brain, heart, lungs, kidneys, stomach, esophagus, uterus and the beautiful giant newborn baby of CAMILA.
This incredible and excitement EDUCATIVE PROJECT is well known not only in Colombia and abroad. We have been in Mexico, Brazil, Venezuela, Peru, and other countries.
This educative project has the most incredible technology, excellent sound, and acclimated with real effects of lights, movement making this fantastic tour very enjoyable to children and adult. The capacity of this project is to take every five minutes groups of 25 students and professors (60,000 monthly visitors), the length of this recreational an academic experience is about 45 minutes. Plus 45 minutes of information in the lobby with videos of promotion of styles of healthy life.
TOTAL VISITORS PER CITY:
| | |
| --- | --- |
| Bogotá (12 meses): 2005 | 703.804 |
| Cali (Sep22-00 / Ene31-01): 2001 | 138.801 |
| Barranquilla (Abr-00/Agos31-00): 2002 | 103.673 |
| Lima Perú (Jun-00/Dic-00): | 376.000 |
| Sao Pablo Brasil (estimado): | 5.800.000 |
| México- Ciudad de México: | 3,000,000 |
For further information please contact:
Liliana Ortiz De La Cruz
ISCA EXECUTIVE COMMITE MEMBER
Address: Cra. 25 # 41-64 Bogotá, Colombia, Sur América.
Tel: (571)3681145-3681147.
Movil: (57)3182407060
E Mail:[email protected]om