24/1/2014
Back to school in Australia – but how will they get there?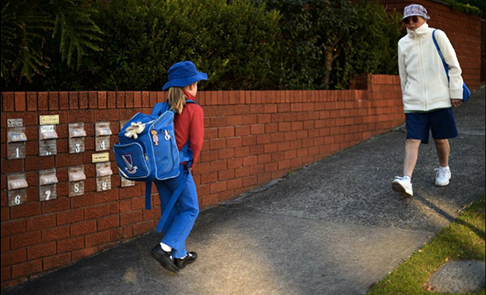 Photo AFP: Saeed Khan.
Australian children are getting ready to go back to school after their summer holidays – and more than half of those in primary school will arrive there in their parents' cars rather than by bike or foot. The national broadcaster, ABC, reported last year that convenience, fear for safety and distance were significant factors influencing parents' choices of transport to and from school. The study it featured showed that Australia is lagging behind England when it comes to children's active transportation.
The story is similar in Canada, where Toronto-based organisation Active Healthy Kids Canada recently released its 2013 Report Card on Physical Activity for Children and Youth, an advocacy tool to spark political action on various barriers to physical activity. The Report Card highlighted walking to school as one of the most important, but at the same time most underutilised, sources of exercise for children in Canada. It found that only 28% of Canadian children walked to school on a regular basis.
Rather than claiming bragging rights in the countries' ongoing Commonwealth rivalry, a successful English initiative, the Beat the Street global walking competition for schools, is aiming to lift the Australian and Canadian statistics by helping to promote a fun community approach to walking to school. The Beat the Street competition, which was featured in the ISCA newsletter in November 2013, involves a swipe card system that the children use while walking to school to score points towards prizes for their schools.
Beat the Street's Project Director Veronica Reynolds introduced the programme, in which schools in London, Liverpool, New York and Shanghai took part in 2013, to the MOVE Congress last October. Reynolds says there are plans to extend the programme to both Vancouver and Sydney in the first half of 2014.
"Although this project only involves a few schools, it does have the benefit of raising the profile within those cities about walking to school and can help address and break down some of the barriers," she says.
Unlike the findings from Australia, the Canadian Report Card found that Canadian parents believe it is safe for their children to walk to school. In both countries, however, long distances prove more of a barrier than in smaller countries like England and Switzerland, which the ABC reported has having a 95% rate of school children walking to school.
Another common factor is simply that driving from A to B has become a habit for Australian and Canadian parents. This is something Reynolds, on reading the Australian article, believes Beat the Street has the potential to change.
"Beat the Street is designed as a high profile project to attract media attention and provoke discussions in those cities – and it sounds like those discussions are needed in Australia!"
By Rachel Payne, ISCA
Read the Australian article on ABC News online
Read the 2013 Active Healthy Kids Canada Report Card on Physical Activity for Children and Youth
Find out more about Beat the Street
---