17/1/2013
A pool of Top Political leaders that will
MOVE Good Governance in Grassroots Sport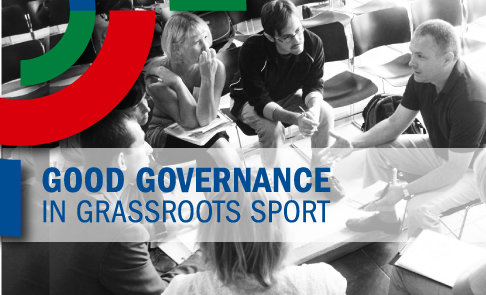 Over the last six months, ISCA has led a series of training on Good Governance in Grassroots Sports for leaders within sport for all organisations across Europe. The impact of these trainings for the participants and European wide grass root sport has been immeasurable. 22 leaders from 13 different countries have now been certified for their training by ISCA and work on spreading the message further and giving practical support to grassroots sport organisations continues. But as the third and final training session in this first series comes to a close, we look back over the series and ask those sport for all leaders lucky to have been involved what they have learned, what they enjoyed and what aspects have motivated them to seek change and improvements within their own organisations and themselves as leaders. Over the course of the three training sessions the grassroots sport leaders have heard from experts in the field of governance, and discussed and analysed how they can develop and support the sport for all sector to grow operate in an effective, efficient and transparent manner.

It was in Bologna Italy, hosted by Casalecchio di Reno commune and Masi Sport, that the first of the trainings took place. The focused was on 'Policy' with specific attention to the importance of including all stakeholders within decision making processes and the impact this can have on membership, participation and overall success of the organisation. The training looked at case studies from Hungary and Italy with expert input from Filippo Fossati, UISP President, Italylooking at their experience of good governance in sport and how UISP works with inclusivity as one of four key principles of good governance.

It was this training that Martin Chlumský, the Director of the Central School Sport, SOKOL from the Czech Republic found particularly useful:
"It was the first time I had considered including a broad range of stakeholders in my decision making processes, it was a totally new concept. So the training gave me a lot to think about."
From this one short training session Martin has used the tools and skills developed in the workshop and has put into place an action plan to include his volunteers and members in fundamental decisions on how the centre is run. The results were a huge surprise to him "I was a bit shocked at how keen volunteers were to share their thoughts views and experiences, it really didn't take much effort to find out a lot of information on what the users and volunteers of the centre thought."

Martin's efforts to use the skills and knowledge developed in the training have paid off for him personally as well "I have recently been promoted within the organisation, and my interview presentation was based around the concepts discussed in the training. The board was extremely interested in the vision and the strategy presented to achieve it. Without the training I wouldn't have had the confidence or knowledge to be putting forward these plans which take in to account stakeholder management, accountability and transparency of decision. I am very grateful for the opportunity to participate in this programme"

In Tallinn Estonia, hosted by JOUD and the City of Parnu, the second training looked at the impact of People and the importance of democracy and accountability within organisations. Presentations were well received and provoked interesting debate and thought. They ranged from Jean Claude Arnaud from USEP examining democracy in grassroots sport, ensuring a democratic and accountable system which allowed for shared and balanced power to Marian Murphy from the Special Olympics discussing how they 'Lead their Leaders'.

This training session is something Mihai Androhovici from the Romanian Federation Sport for All found particularly useful: "In the last few months the role of my organisation has changed from servicing 42 separate members to overseeing eight regional bodies. Over the next eight months my organisation will be involved in ensuring that each of the eight regions elects a president and board who will take the responsibility for overseeing sport in their region. Governmental money will go direct to these organisations and my role will become far more about ensuring their governance, operations and decision making processes are transparent." It is a role that six months ago he would have found daunting but following the training he has the confidence in himself and his board has the confidence in him to effectively carry out the role of supporting the change effectively. "I have learned a great deal from the training and what is most comforting is that I know that if I reach a situation where I don't feel I know what to do for the best, there is a network I have built through the training of people I can call on for advice and support"

The third and final training looked at Process. Presenters from the UK, Hungary, Spain and Ireland looked at how organisations can create systems which allow risks to be managed, decisions to be made transparently and performance effectively monitored. There was also a special focus on the future of good governance and the potential risk of the sport for all community not addressing governance as a whole.
Toni Llop, from UBAE Spain and a representative on the ISCA Executive Committee was part of the presenting team within this training but found the other presentations and workshops a chance to confirm his understanding of what good governance is for his organisation:
"It is clear you need to demonstrate that you have good governance. It is not simply enough to put the structure in place, you need to live it on a daily basis and make sure that your customers and partners have trust and belief in your values as an organisation. This is how you will grow and flourish"

It is obvious that individually the trainings have had a great impact on the individuals that have participated but the strength of the programme lies in what can be achieved in the near and distant future. The third training session was kicked off by Darren Bailey, from The English FA and Chair of the EU Expert Group 'Good Governance, who urged the group to take ownership of governance within grassroots sport, to make sure the sector is in a position of strength. As the training was bought to a close and participants reflected on their learning made commitments to taking the work forward, it was clear that the training sessions have not only educated the participants but have inspired them to take the message forward, implement positive change in their organisations and act as ambassadors within our sector.
"Before the training I had a very narrow view of how sport for all could, and should be run and this experience has opened my eyes to new ways of thinking and I am looking forward to sharing the message with my colleagues and partner organisations"
Henriette Vass, Hungarian Olympic Association.
The three themes covered in the trainings form the backbone of the Good Governance Project and although the trainings have now been completed and have had obvious benefit to the participants the programme will leave a legacy through the development of the self-assessment tool kit, handbook and final report of all the training sessions. These will all be available by March this year and significant effort will go in to promoting the use of these. More information on these tools and the project trainings can be found here: http://www.goodgovsport.eu/
---