22/2/2016
"A good role model for the ladies":
Why Shirin Mehmood was a perfect fit for the This Girl Can campaign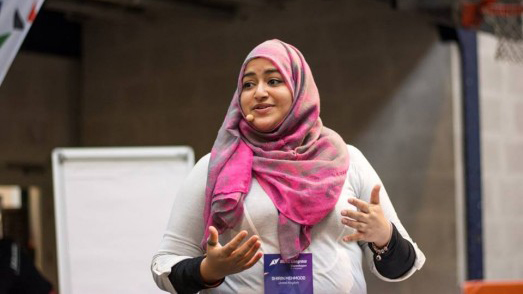 Despite only being one-year-old, the UK's This Girl Can campaign is already reporting that it is "changing behaviour". A recent study claims that 2.8 million women who know about the campaign say it has prompted them to be more active, while 1.6 million women say it has inspired them to start exercising. Launched by Sport England last year, the campaign is now aiming to go beyond British borders and get even more women and girls in Europe active.
ISCA's Jérôme Guiraud spoke to Shririn Mehmood, Lead Officer of the This Girl Can campaign in the City of Birmingham, about what has made the campaign so successful, how she got involved in it and what makes her a "good role model for the ladies".
Jérôme Guiraud: This Girl Can campaign has reached a fantastic scale in only one year; how did you achieve this?
Shirin Mehmood: What we do in our Wellbeing Service is that we look at different aspects of women's lives. We look at colleges, schools trying to think one step ahead we want to change the girls' mindset from not being able to play sport or doing a physical activity to actually going ahead and doing it. Because there is that accessibility and there is no one that is saying: "oh you can do that because you are only a girl". We try to break down their mindsets.
We work with all the age groups: from the young girls to the older generation. We work with mothers and daughters together and look at how mothers can have a positive influence on their daughters' lives and act as positive role models.
With the older generation, we have at the Wellbeing Service a lot of programmes in the Be Active scheme that gives people entitlementto free activities at gyms and leisure centres. They can come a couple of hours a day, same time, every day, same people around. They are building a social network as well as being physically active. That's one way that we try to encourage them to continuously come.
JG: Is reaching girls at school and as young as possible a way to tackle social pressure?
SM: Of course. My colleagues and I approached a few schools where we asked girls why they felt that they could not take part in activities. And it was quite shocking to hear that even now, in the 21st century, there are still girls that feel that the boys will laugh at them and that they can't do it because: 'Jonathan is really macho and he runs with the ball and I can't run as fast as him'. They fear that they will point and laugh if they fall over or if they try to tackle or get the ball off someone while playing netball or dodgeball. What the girls actually told us, and they were quite young girls actually, is that the boys were just trying to dominate the session rather than giving everyone else a chance.
What we are trying to do now, by working with schools, is to break down those barriers or mindsets that girls can't do whatever they want. If you start young, there is more likely that they will continue that physical activity and keeping up with what they want to do as they grow up.
It is a lasting change of habits, then, isn't it! (laughing)
With This Girl Can, there is no pressure of 'girls can't do and boys can'. A lot of schools in Birmingham are proactive in doing that; the PE teachers, the whole school education system – I think they are quite aware that it is a problem.
JG: Physical activity and promoting it is obviously something important for you. How did you end up getting involved in such activities?
SM: I was quite a large girl throughout my secondary school and college. I went to university where I went to a lot of voluntary placements, working with a lot of other people, putting myself in situations where I wasn't comfortable. I reflected on why I wasn't comfortable and I realised it was my image. And that was a sort of trigger that let me think that I needed to change myself, not for other people's approval but for my own self confidence. So that I could stand up and it has led me to be the confident person I am today.
I was quite fortunate in that I've got a very supportive family. So I went running with my sisters for a while. I tried joining the gym. But the gym wasn't always the best place for me, I don't really enjoy that. I joined Zumba classes, which is where I found my passion for dancing, and I then became a Zumba instructor myself. Taking the first step was running and then doing Zumba classes as well as other classes that went along with that.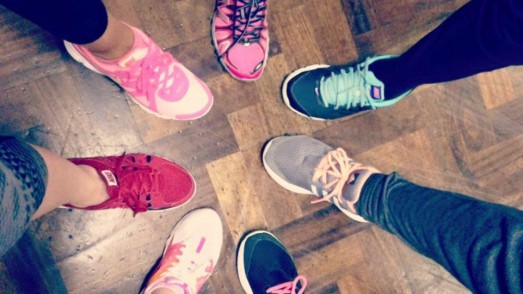 JG: How did you get involved in this campaign? Through Zumba?
SM: I started as a Zumba instructor at one of one 'female only' sessions in the city of Birmingham. The manager there noticed that I had a lot of potential in the sense that I was a good role model for the ladies who were at the session, as I sort of have that realistic image if you like. And I came on board with "This Girl Can" through a job opportunity that I was given. I've just not turned back since then.
JG: As Zumba instructor, do you meet women or girls who went through the same process of realisation you faced years ago: that being physically active is about taking care and accepting yourself as you are?
SM: Absolutely. I do three classes a week and all three are totally different. The first class that I do is with younger girls who are at college. I actually recently started that one. With these girls, there is more a sense of trying to fit in. Obviously for the bigger girls who are less confident, the way that I was, it is a wakeup call for them that they can stand up and express themselves through dance and movement. They can do whatever they feel. To be honest, I am hoping that it will and already has a positive effect for them to shape their own future.
In the other classes that I do, I have recently had women who have recovered from cancer and understood the importance of being fit and trying to keep their mental wellbeing and stability. It is really important for them. You can see that they've gone through that contemplation stage and they have realised it is time for action and that's their port of call to actually go in for activity and come to Zumba classes every week.
JG: So, by coming, they take the control of their lives and of their body.
SM: Yes. It is that sense of confidence and control as you said as well as being able to know what your body can do and just expressing yourself. With the This Girl Can campaign it doesn't limit people to just going to the gym. We look out different ways that it can be free. That's another contemplation that women have to face: Is the activity free? Is it close to me? Is it easy access? And then, comes the fear of judgement, which is the one that is a big thing for women. But once they have ticked all the other boxes, then that big one at the end is where it becomes the control sense – can they control their own mental wellbeing to realise that this is good for them and that they should continue?
JG: What is the future of the This Girl Can campaign?
SM: We are now hoping to bring it to European countries and make it even bigger, I mean, the ethos itself speaks louder than any other campaign I have known of. The principle behind the campaign is that it just ricochets through every single woman, it is relevant to every person out there. We hope that women and girls everywhere can get involved freely in physical activity. No matter what they want to do and how they want to do it.
As well as this, for Birmingham, one of our targets are women or young girls with disabilities. We take into consideration their disability and don't use as a tool to say that they can't achieve something. We have got a few disability inclusion sports days going on in Birmingham for women in March. So they have the whole month of activities going on.
Physical activity isn't the first thing on people's mind. But once it becomes a priority it is something that you just roll with and it's second nature really.