18/3/2019
24 April 2019 is No Elevators Day, when small steps can make a big difference!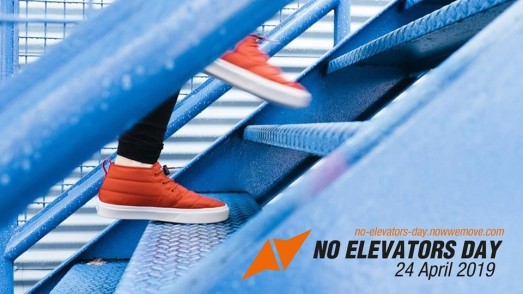 For the 5th consecutive year the last Wednesday in April will become the focal point not only for sophisticated stair takers, but also for regular people around the world who just like to get more physical activity into their day. Read on to find out how you can take part in No Elevators Day!
No Elevators Day on 24 April is all about raising awareness about the benefits of an active lifestyle and showing how easy it can be to incorporate physical activity into a busy day by simply taking the stairs instead of the elevator or escalator. It creates a new understanding in showing the many shapes physical activity can take, and leads to a healthier way of life and improved wellbeing – physically as well as mentally – one step at a time.
Last year, No Elevators Day went global and was immediately a huge success, especially in Latin America with thousands of people skipping the elevator to take the stairs.
This year we want to continue growing in order to get even more people around the world moving and healthy. To do this we need the support of people from all continents – we need your support!
How can you join "No Elevators Day" and help your community to become more active?
It is very easy and your involvement can be adjusted to your needs, your community as well as the amount of time and energy you want to put in.
Examples of No Elevators Day activities are:
A stair running contest between colleagues in an office building or students in a school or university.
An awareness campaign by hanging up our free-to-download posters with motivational messages to show the benefits of taking the stairs.
Whatever inspires you to get your neighbours or colleagues more aware of the benefits of stair climbing. The possibilities are only limited to your imagination!
The date doesn't suit you or it's hard to find supporters?
The great thing about No Elevators Day is that it is an awareness-raising event that aims to promote a healthy habit. So if it inspires you to start climbing, that is the first step. All you need is yourself and a staircase to create change. Whenever you take that first step towards a more active day, you can share it on social media with a fun motivational message for others to follow your good example. Be a No Elevators Day ambassador – and don't forget the hashtag: #NoElevatorsDay and #TakeTheStairs
Once you've decided to take part go ahead and register your event here.
Also, have a look at our free-to-download resources and make your No Elevators Day activity stand out.
For more information check out the official website and join the Facebook event.
If you still have questions feel free to contact Dominik at [email protected] He is coordinating No Elevators Day and is always happy to support your activity!