8/6/2015
21 countries join in first No Elevators Day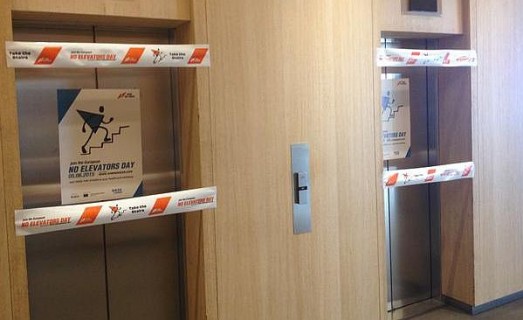 Photo: Belgium's BASE Company took up the challenge.
On 5 June volunteers from 60 cities in 21 countries closed off elevators and escalators in their workplaces and public spaces to promote the first European No Elevators Day.
Climbing the stairs is an easy way to increase daily physical activity levels, even if there is no time for regular exercise or sport. Thousands of Europeans became aware of this simple solution to the sedentary lifestyle issue on Friday 5 June when the first European No Elevators Day took place.
The activity, initiated by the International Sport and Culture Association (ISCA), immediately found numerous supporters around Europe – from citizens and volunteers, local health and educational organisations, to corporate CEOs, ministers and governors, as well as politicians from the European Parliament and the European Commission.
Volunteers from 60 cities across Albania, Belgium, Bulgaria, Croatia, Denmark, France, the former Yugoslav Republic of Macedonia, Greece, Hungary, Latvia, Lithuania, Malta, Netherlands, Poland, Romania, Serbia, Slovakia, Slovenia, Spain, Turkey and United Kingdom closed off elevators and escalators in their workplaces and public spaces to promote stair climbing as a healthy habit that keeps people moving throughout the day. The participation in the events was voluntary and access to lifts was ensured for people with disabilities and medical conditions, as well as for those not willing to participate.
In some buildings the participants were offered additional activities related to their health and physical activity, such as having their body composition measured or playing mini-golf. Many people received MOVEment Pills boxes, a creative promotional pack developed by ISCA to promote physical activity, including links to a series of short movies showing simple exercises that can be done in the office, at home and outside. The MOVEment Pills videos can be found on the NowWeMOVE YouTube channel here
John Murphy, (58), who was attending an outpatient appointment at one of the participating hospitals in Lancashire, Scotland, said that seeing No Elevators Day being promoted caused him to think again about using the elevator when he arrived at the hospital: "I would have absolutely have taken the lift (elevator) without even thinking! It is amazing what a little prompt can do to help you be a more active throughout the day!"
No Elevators Day is part of ISCA's ongoing NowWeMOVE campaign promoting grassroots sport and physical activity. The event hashtags #NowWeTakeTheStairs, #NoElevatorsDay and #NowWeMOVE were widely used by participating individuals and supporting organisations to promote the event and share pictures from their communities.
European No Elevators Day is part of the NowWeMOVE campaign, supporting the European Week of Sport - #BeActive.
Check out more photos and tweets from the day using the #NowWeTakeTheStairs hashtag
Find out more about No Elevators Day here