25/2/2015
20th anniversary special feature:
Three long-standing members tell how their journey with ISCA began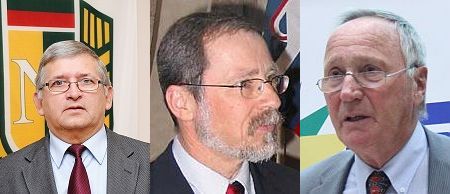 We announced earlier this month that ISCA is celebrating 20 years of Moving People and working together with grassroots sport organisations around the world that have the same ambition. So what better opportunity to take a closer look at some of the organisations, people and developments in the physical activity that have been part of ISCA's journey so far? This month we take a step back in time with three of our longest standing members, Nemunas (Lithuanian Sport and Culture Association), Czech Sokol Organization and the German Gymnastics Federation (DTB) to find out how their own journeys with ISCA began.
Photo above: (L-R) Kestutis Levickis (Nemunas), Vladimir Dostal (Czech Sokol Organization) and Herbert Hartmann (DTB)
Nemunas (Lithuanian Sport and Culture Association)
There from before the beginning – how is that possible?
Kestutis Levickis, the Chairman of Nemunas (Lithuanian Sport and Culture Association), was there when ISCA held its foundation meeting on 10 February 1995. In fact, he was part of ISCA before ISCA was even born. How is that so? It all started with his involvement with Danish sport for all association DGI, which put the ISCA's establishment into motion:
"In 1992, DGI and Nemunas had their first meeting in Vilnius, after that in Copenhagen," he explains. "That was where we made our acquaintance with Holger Vestergaard, from DGI international. In 1993 Holger came to Vilnius and he talked about a future international grassroots sport organisation, which became what we now know as ISCA. We met again with others in Denmark in 1994 to talk about ISCA's vision and objectives. So in 1995, I took part in the first ISCA General Assembly representing Lithuania. I am an ISCA signatory and Nemunas became an ISCA member this way."
When Nemunas joined ISCA it was a relatively young organisation and next year it will celebrate its 25th anniversary. So it goes without saying that Nemunas has shared much of its history with ISCA, including collaborating on several ISCA projects, hosting three ISCA executive committee meetings in Vilnius and organising three open sport and culture festivals together.
"In 1996 we even changed the Nemunas name and we are now officially called Lithuanian Sport and
Culture Association 'Nemunas'," Levickis says.
Czech (Czechoslovak) Sokol Organization
ISCA membership builds on long-awaited return to sport for all movement
The Czech Sokol Organization was established on almost the same day as ISCA – 133 years earlier. It celebrated its 150th anniversary in 2012 and has expanded from the Czech Republic to Western Europe, the US and Australia through Sokol affiliated organisations. Its long history in the grassroots sport sector suffered an abrupt interruption in 1948, when the communist regime banned its activities:
"The Czech Sokol Organization was re-established in 1990 after more than 40 years of being forbidden by the communist regime," says Vladimir Dostal, Czech Sokol Organisation Head of International Affairs.
"We quickly restarted our rich array of sport and cultural activities and what helped us carry on were the Sokol organizations throughout the world that had kept Sokol's ideas and programs going over those years."
Just five years after its return to the sector, the Czech Sokol Organization became a founding member of ISCA. This was a perfect opportunity for the organisation to regain lost ground in Europe, Dostal explains.
"What we missed when we joined ISCA was contacts to other European organisations and sport for all movements with whom we could cooperate and share our knowledge, skills and experience. Therefore we welcomed the establishment of a worldwide organisation like ISCA, which offered us membership and, at the same time, participation in various interesting projects and programs where we could both learn a lot and share our know-how with others."
The organisation is now thriving with over 180,000 members and offers over 80 different types of sports plus cultural activities such as theatre and art. Like Nemunas, it has also hosted a number of ISCA meetings, seminars and workshops and has embraced ISCA's projects as away to expand its work even further.
"ISCA's projects have often offered us something new and strengthened our capacity in areas such as sports management, education of sport leaders, health oriented projects, youth sport and sport for seniors," Dostal says.
One of these projects is ISCA's MOVE Transfer initiative, which will see DTB's Active Age programme being implemented in the Czech Republic via Czech Sokol Organization later in 2015.
German Gymnastics Federation (DTB)
Putting health and fitness on the agenda – both nationally and internationally
ISCA Vice President Herbert Hartmann was the Vice President of the German Gymnastics Federation when ISCA began. Joining an international umbrella organisation for grassroots sport like ISCA was not a priority for DTB back then, but Hartmann was insistent that it could help the large organisation follow its ambition to grow in the field of health and fitness:
"In the late '90s we got an invitation to join ISCA, but at that moment the German Gymnastics Federation decided not to join because it was more natural for it to be part of the International Gymnastics Federation," Hartmann explains.
"But from my point of view, the International Gymnastics Federation not really pursuing the activities we put in focus. For instance, we offered target group-related activities for children and elderly people, and at that time we were also very active in the field of health and fitness. The International Gymnastics Federation was not so interested in these topics. So that was the reason I could convince my board to join ISCA and I think it was in 2000 that we joined."
ISCA and DTB have worked extensively on projects led by each organisation, including DTB's EU preparatory actions-supported Active Age project and ISCA's DG SANCO-supported MOVE Project. Aside from DTB's involvement in MOVE Transfer, the organisations' current collaboration is on DTB's new Erasmus+ project, the European Fitness Badge.
DTB has not only used its ISCA membership to gain international inspiration and expand its own activities, it has also helped shape ISCA's work in health enhancing physical activity and active ageing. ISCA's new MOVING Age network is a testament to the organisations' dynamic collaboration in these fields.
Start your own journey with ISCA
ISCA is its members, its members are ISCA. Each of these organisations has shown that being part of ISCA has helped push them forward in their own work in the grassroots sport sector. Their valuable input in hosting ISCA events, contributing to ISCA projects and bringing new perspectives on grassroots sport to our international network also shows how much ISCA has benefited from their active membership.
Join us and become part of the next 20 years of our journey. Click here to find out how