15/4/2011
2010 Declaration on grassroot sports and citizenship
Sport and Cultures in Dialogue - a never ending journey!
Sport and Cultures in Dialogue project partners established a constructive dialogue among each other and with stakeholders at the European and national level and called on the European Commission to further strengthen its on-going dialogue and cooperation with the sport for all sector specifically and civil society actors in general.
More than 290 participants from Local Citizens Panels in Albania, Macedonia, Croatia and from Sport Citizens Forum in Slovenia developed initiatives and future perspectives based on main statement: 'Sport is a growing social and economic phenomenon which makes an important contribution to the European Union's strategic objectives of solidarity and prosperity. The European institutions have recognized the specificity of the role sport plays in European society, based on volunteer-driven structures, in terms of health, education, social integration, and culture.'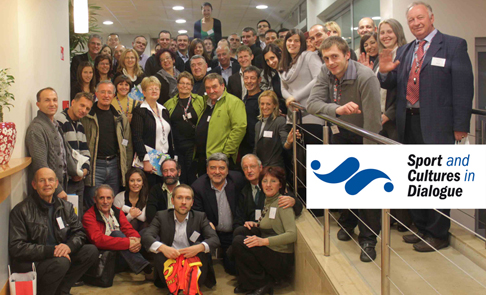 Future plans
Future plans arising from participants from Local Citizens Panels:
- to encourage interaction between citizens and civil society organizations from project partners countries to promote the right that each citizen can choose to practice in sport according to self-motivation , preferences and possibilities.
- to maintain good connection with communities keeping their traditional sports and ethnic manifestation alive
- to further the efforts of Associations in providing services for national organizations in the sport/health/health promotion activities we need partnerships with governments, schools, health sector, insurance companies, local authorities, medias, sport companies.
- Through its role in formal and non-formal education, sport reinforces Europe's human capital. The values conveyed through sport help develop knowledge, motivation, skills and readiness for personal effort. Time spent in sport activities at school and at university produces health and education benefits which need to be enhanced. Non-formal education has to be official recognized by civil society and all authorities.
- to bring together people from local communities and project partner associations to share and exchange experiences, opinions and values, to learn from history and to build for the future. This is what project partners call non-formal education.
- to show evidences of social role of sport and sport organizations by involvement of local community, local authorities (local decision makers like mayors), ministries, institutions like universities
- to exchange good examples from developed societies, organizations
- to increase the social role of sport by promoting the introduction of new sports
- new technologies must be used to give more visibility to sport events
- media must be communication tool for increasing the public knowledge and interest on sport for all activities
- to organize training for (sport) managers to get knowledge and experiences about cooperation with media and how to communicate with public authorities
Sport and Cultures in Dialogue project gave a lot of nice memories. Project leaders caught them into a video. You can find it here: http://www.mydialogue.info/
2010 Declaration on grass-root sport and citizenship
2010 Declaration on grass-root sport and citizenship which was adopted by project partners in Sport Citizens' Forum in Slovenia (November 2010), states that in order to achieve European Citizenship, we need to live and breathe European values bottom-up. Grass-root sport is a sector that can embody and further values such as respect, openness, fairness, equality and human rights as a basis for citizenship and democracy in Europe.