28/2/2018
19 Spanish schools to collaborate on a No Elevators Day project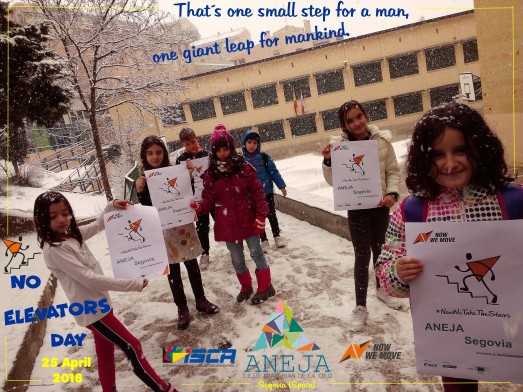 By Andreu Raya Demidoff, President of Deporte para la Educación y la Salud
A group of 19 schools in Euskadi, Castilla Leon and Madrid will be the main drivers of No Elevators Day 4 Schools in Spain by developing a transversal and multidisciplinary project for other education centres. The initiative has been born from the working methodology of Sports for Education and Health (a Spanish based NGO) and is inspired by the International Sport and Culture Association's initiative No Elevators Day.
The education centres that will collaborate in this project are Arizmendi Ikastola, Askartza Claret, CD Premavi, Estudiantes las Tablas, Fray Juan De la Cruz, Fundación Gotze, Herrikide Tolosa, Hijas de la Cruz, Hogar del Buen Consejo, Iraurgi, Liceo Europeo, Maria Reina Eskola, Ntra. Sra. de la Merced, P. Andrés Urdaneta, Sagrado Corazón Ana Mogas, Salesianos Cruces, San José Carmelitas, Virgen de Mirasierra and Zaragueta Herri Eskola.
During the project, the students will work combine physical education with languages, mathematics, physics, plastic arts and science. They will translate posters, banners and communication documents from English, paint and draw communication resources of the day, scientifically analyse the calories burned by climbing stairs during the year, accumulate metres climbed among the entire educational community and, of course, celebrate the Day by climbing as many stairs as possible that day. Everyone is invited to climb!
The students, in addition to their projects at school, will become active lifestyle agents for No Elevators Day and promote the event to their neighbours, in public buildings, hotels, shopping centres, and so on. They will present the campaign so that on 25 April, the number of people saying "No" to the elevators, climbing the stairs and thinking about adapting this healthy habit in their daily life will grow. The student agents will also initiate a fundraising campaign to help transfer training in schools that are "Committed to Sports and Health Schools" to all those schools with fewer resources.
We hope to engage about 100 schools more through this action, which will result in 50 to 60 thousand children acting as No Elevators Day agents before and during the day.
The objective of events such as No Elevators Day is to raise awareness among the population about the urgency to change current habits and embrace healthy lifestyles to fight sedentary lifestyle and obesity that are currently the third and fourth risk factors for death.
All information on the event and the project for schools will be published by the end of February both on our NGO's website (www.educacondeporte.org) and on the official website of No Elevators Day (www.no-elevators-day.nowwemove.com).