2/5/2012
Training of Trainers in Education through Sport
MOVELEARN manual
Non-Formal Education through Sport
The contribution of the ToT process to the European domain of education through sport in youth work and in grassroot sport.
Click here to visit the MOVE&LEARN platform
"Training of Trainers in Education through Sport" is a long-term educational programme, composed of 2 trainings, 1 evaluation meeting and 1 networking component. The residential meetings will take place in Scotland, Italy and France. The aim is to create a network of 24 trainers who have the competences of using non-formal education and education through sport in projects at national and international level, to support initiatives in the sport for all sector.
Participants will have the opportunity to use online educational tools and to facilitate a workshop or a training both in national and international context, in between the residential meetings. They will be supported by a mentor in their development and will receive continuous feedback and coaching sessions throughout the project.
The team and the participants will develop a toolbox with educational activities, which will be included in the manual "Education through Sport – an active manual for European Youth", which will serve as a key reference for all trainers interested in this methodology.
Objectives:
- To explore sport and outdoor physical activities as a tool for non-formal education and adapting different
types of activities to different target groups;
- To develop knowledge, tools, attitudes and skills for the use of sport in working with young people;
- To share good practices of using sport activities to enhance active participation of young people;
- To involve more young people in trainings and workshops at national and international level;
- To develop an online learning platform as a resource for trainers and young people interested to organize activities using the methodology "Education through sport";
- To create a network of trainers with competences in the methodology "Education through Sport" which will represent ISCA pool of trainers;
- To create a Toolbox with educational activities through sport to be used by trainers and other interested
people in their local/national/international context.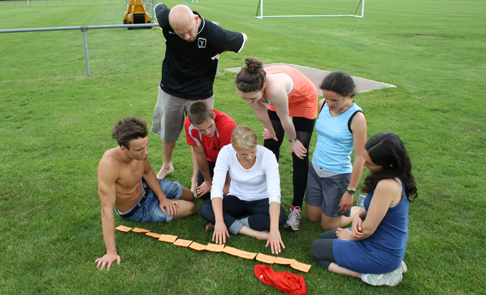 International partners: INATEL, Scotish Association of Local Sports Council SALSC, Deutsche TurnerJugend DTJ, Czech SOKOL Organisation, Federation Sportive et Gymnastique du Travail FSGT, FIAF, Association for Dialogue Culture and Sport ADCS, Sports Union of Slovenia SUS, Icelandic Youth Association UMFI, Unio Barcelonina Associacins Esportives UBAE, Bulgarian Young People Federation BYPF.
More about the project:
The project consists of the following elements:
- 3 residential meetings (two trainings and an evaluation meeting)
- Personal Practices and experience building for participants (not directly funded by this multimeasure):
o Personal learning project – a training/workshop delivered by the participants for their
organizations or in their local context
o Practice as junior trainer in an international training, part of ISCA's or ISCA partners' activities
o Mentoring – the facilitators will be a mentor for participants, helping them with their learning
- Trainer's tools, composed of
o Training manual "Education through Sport"
o Online educational tools (E-learning platform)
Description of the main events:
First Step:Training Essential (Glasgow, Scotland, 18-24 June 2012): focus on teambuilding, non-formal education, education through sport, project management, essentials of trainings, group dynamics, roles as a trainer, practice a small training session, setting the objectives for the individual practice back home and start working on the design of the activity.
Second Step: Go International (Italy, September 2012): training methods, designing the learning process, debriefing, evaluation. Preparation of 6 different training designs, for different topics (social inclusion, leadership, other themes chosen by the participants). Facilitation by the participants on these designs.
Third Step: Integrate (France, July 2013): sharing of experiences from the trainings facilitated, evaluation, finalizing the draft of the manual.
At the end of the project, each participant will sign a training agreement with ISCA and will facilitate two trainings, free of charge, as members of ISCA pool of trainers.
Methodology:
The methodology of the training is based on Non Formal Education as a means of facilitating the learning process and increase the interactivity of the even with a particular focus on Education through Sport.
Since learning by doing and accelerated learning are among the most efficient ways of learning, the course concept was conceived in a way that allows active participation and exchange between participants. It is built to place value on the participants' own experience, from real life or simulations, and work on concrete projects for the future.