2/12/2010
ISCA'S LATIN AMERICAN YOUTH COMMITTEE TAKES PART IN THE WORLD YOUTH CONFERENCE IN MEXICO
www.youth2010.org
The World Youth Conference (WYC) has been hold in the city of Leon, Guanajuato, Mexico from August 23rd to 27th, 2010. The conference had full support from the United Nations System as well as other multilateral organizations and the WYC 2010 had three spaces for participation, all of them linked with each other: Social Forum, NGOs Meeting and Global Interactive Forum.
The Global Interactive Forum took place in a space of 46,000 square feet, which was opened to the public during the five days of the Conference. Non-Government Organizations focused on youth, UN agencies and education institutions had an opportunity to participate in the Information Fair with booths to share information about their goals, objectives and institutional projects with young people, highlight and recognize the importance of young people in their organization or institution. The Global Interactive Forum also featured cultural activities, such as exhibits, drama performances, concerts and shows, as well as artistic expression areas.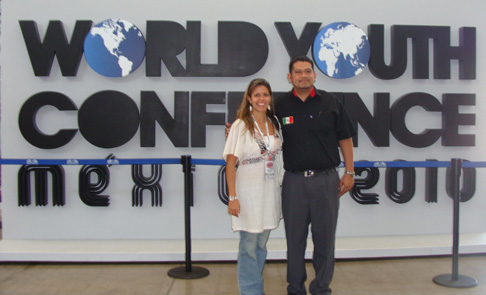 The Latin American Youth Committee participation in the Interactive Global Forum happened through the Parallel Activities, as a Youth Dialogue, in which ISCA was represented by the Helaine Lima (LAYC's chairwoman) presence.
The theme hold by Helaine was the International Youth Leader Education – IYLE, the non-formal education program in the Folk High Schools of Denmark.
For this dialogue, it was made some dynamic activities, in which the participants could tell their understanding about what should do an international sport and culture association, which is the aim of this association youth committee and how should be a non-formal education program that has the goal of prepare young leaders dedicated to volunteer service. After the participants free speech it was showed slides with the topics above mentioned, with the aim of highlight the ISCA's philosophy, its way of working worldwide as well as its Latin American youth committee.
There were also made some dynamics in order to show the importance of the wide communication between people with common objectives. In the end, the participants got together to draw a project with which they could developed with young populations.
There were 28 participants, from several nations, such as Mexico, Pakistan, India, Canada and Costa Rica, representing NGOs, educational and sports private and governmental institutions.
The evaluation of the LAYC's participation in this Conference is very much positive, because it was possible to start a contact net between the diverse Mexican organisms and also with some other countries, many young people that are deeply involved with youth volunteer work.