11/9/2012
European Youth and Sport Forum 2012
25/11-1/12 Larnaca, Cyprus
The European Youth and Sport Forum EYSF was a 6 day event which gathered 100 young leaders from youth and grassroots sport organisations to discuss two key topics: Volunteering and Health, and how these themes could increase active citizenship.
The forum was organised during the Cyprus Presidency of the European Union, and the Forum recommendations were delivered to EU Sport Directors, who were meeting in parallel to the Forum.
---
EUROPE IS LISTENING TO YOUTH

This is the key message sent by Androulla Vassiliou, European Commissioner responsible for education, youth and sport, who made us the honour to answer to our questions on the occasion of the European Youth and Sport Forum 2012.
She gave us an insight to the future of EU sport and youth policy and expressed her wish to create more synergies.
---
EYSF2012 Foreword
By Mr. Kevin Mayne – Development Director of the European Cyclists' Federation - Guest Speaker of #EYSF2012
---
EYSF2012 Pink Paper Declaration
Youth leaders' political and practical recommendations fro stakeholders
EYSF2012 gave young leaders in sports an opportunity to voice their opinions and exchange ideas about the current situation with health, participation and volunteering. Read their recommendations and help us spread the message of the European Youth and Sport Forum 2012.
---
EYSF2012 Pink Paper collection of practices
Inspiration is just out there!
With this collection of inspiring examples, the Forum participants are highlighting some excellent examples implemented in the participating countries. It is an evidence that Europe is already on the move and that big things can happen when people work together.
---
A journey with active young European citizens
Statements by EYSF2012 impact players
You may wonder how a journey with 100 young European active citizens in the field of youth and sport may look like... what is this movement and wave you may have already felt.

Well true is big things always start from small ones and it's only by being all together that we will achieve what we aim for... MOVING EUROPE.

Participants, speakers, facilitators and volunteers have shared their visions and experiences of the event with us. They told u about their journey through the Forum and their wishes for the future. Find out more about the hidden benefits and the learning points from this Forum. They shared their doubts and fears but also their will and positive energy. The European youth butterfly effect is on it's way now.


Let us share with you their journey!
---
EYSF2012 Official video
Check out the OFFICIAL video of the EYSF2012.
EMPOWER AND DELIVER
Among many others, these could be the two key words of the EYSF2012. Participants have learned and shared and they are now ready to spread the words. Will you help them?
---
Volunteering
What is the value of volunteering for individuals and for society?
What makes sport volunteering special?
How can volunteering be furthered and encouraged in the future?
Recognition of volunteering
Legal framework for volunteering
Promoting a culture of volunteering
Which competences and education programmes are needed for volunteering?
HEALTH
How can sport and physical activity contribute to a healthier lifestyle?
How can we integrate more physical activity and sport in our daily routines?
What should different sectors do to further health-enhancing physical activity?
Transportation
Sport organisations
Urban planning and architecture
Education
---
Profile of Participants
Young leaders involved in youth and sport work at a local, regional or, national level or who are involved in NGOs or Sport (for All) organisations.
Participant age must be between 18 and 30 years old.
The Forum will preferably recruit young volunteers and professionals who have specific experience of volunteering within sport and health organisations and who can serve as role models for other youngsters, organisations and communities.
---
Highlights of the EYSF 2012
Opening speech from the Cyprus Government representative.
Presentations, discussions and debates.
Developing political recommendation to european policy makers.
Meeting with the European Union Sports Directors.
Being part of the "Best Practice Fair".
Networking.
---

ISCA – International Sport and Culture Association
ISCA is an international non-governmental association open to youth, sport and culture organisations from all over the world. ISCA has 130 affiliated members in about 65 countries from all over the world, totalling some 40 million individual members. We strongly believe that everybody should have the opportunity to participate in international sports and cultural activities such as festivals, exchanges, seminars, tournaments and education programmes. We call it Sport and Culture for All. Please find more information on the ISCA website:www.isca-web.org

ENGSO Youth – The Youth Organisation of ENGSO (European Non-Governmental Sports Organisation)
ENGSO Youth aims to represent the interest of people under the age of 35 dealing with sport in Europe and to achieve, promote and support the implementation of the ENGSO guidelines for children and youth sport. We promote sport, health and participation of children and young people as well as volunteering and international cooperation in the sport sector.

KOA – Cyprus Sport Association
The Cyprus Sport Organisation is a semi-governmental organisation enacted by the 1969 – 1996 laws upon the Cyprus Sport Organisation acting as the Supreme Sporting Authority in the Republic of Cyprus. Main objectives:Developing extracurricular sports, Co-ordinating the sporting life in Cyprus, Cultivating the Olympic ideal and Promoting Cyprus on the international sports scene. Please find more information on the KOA website: www.cyprussports.org
---
with the support of the Youth in Action programme of the European Union

and of the European Youth Foundation.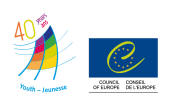 ---
For more information, please contact
ISCA office: +45 33 29 80 26
---