European Youth and
Sport Forum 2005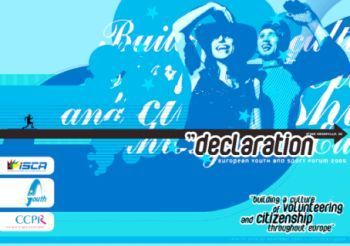 Building a culture of volunteering
and citizenship throughout Europe
The European Youth and Sport Forum took place from the 19th - 24th November 2005 at Stoke Mandeville Sports Stadium in the United Kingdom.
The Forum brought together young people from 28 European countries to discuss the issues of volunteering in sport, combating discrimination, and health and sport under the general theme of 'creating a culture of volunteering and citizenship throughout Europe'.
Pease find the declaration of the EYSF2005 below.