European Youth and
Sport Forum 2002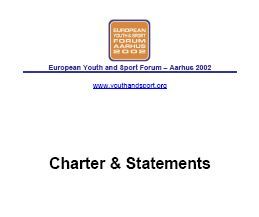 The Århus NGO-Forum Charter
on Youth and Sports 2002
109 young people from 23 different countries and representing a wide range of sports and sports associations met in Århus 18-23 November 2002, in order to discuss the following themes:
1. Health and sport
2. Doping
3. Education through sport
The participants have written this charter as a summary of their conclusions of their meeting, and appreciate the opportunity to present it to the Ministers responsible for sports.
Please find the declaration of the EYSF2002 below.