7/8/2011

If you want to know more about EVS
You have landed in the right place!
Here, you will find stories of past EVS volunteers at the ISCA secretariat in Copenhagen, Denmark, the experience, the fun, the challenges and the inside scoop!
Through these we hope to give you a taste of life as an EVS at ISCA and maybe this will answer a few questions or help you take that first step in taking part in a great experience.
Enjoy the reading!
---

Anne-Flore Angot
, France
2010-2011 Long term EVS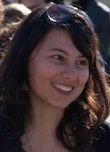 Karine Teow
, France
2008 - Long term EVS
Doing a European Voluntary Service at the ISCA secretariat provides the perfect balance between:
- The freedom to do what you like (within youth, sport and culture)
- and the guidelines or advice needed for you to get there.
To me this experience offers an ideal environment to learn. ISCA pushes its individuals to grow, develop their own ideas and projects while at the same time offers a safety net, just in case.
My personal advice to future EVS volunteers in the ISCA office or those thinking about applying... Firstly, apply you do not loose anything by trying and if you are lucky and have the right profile who knows.
Once you are an EVS:
- Come with an open mind
- Give yourself time to understand what is going on and connect the dots
- Try new things
- Share your ideas, however dull you think they may be someone else might get another idea from it and a project may spark.
- Enjoy the sunny days and/or cake days.
- Get cycling the city feels different when you cycle, it's a good feeling.
- Find something to do outside of the office, whatever it may be evening class, ultimate Frisbee, cooking class.
- Try to develop your own project, idea within ISCA.
- Enjoy!!
More stories...
If you wish to read more about voluntary experience of Baptiste Colin, Pedro Bellini Emmanoelli and Carla Santos, follow the link.
Also, if you are interested in Gary Grieve EVS experience, follow the link.
---