7/3/2014
weMOVEyou
online platform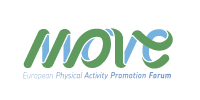 weMOVEyou.eu is an online platform with a wealth of information on how to promote health-enhancing physical activity among socially disadvantaged groups of citizens. In particular, it includes a Handbook as well as an interactive database of 137 good practises - waiting for you to take inspiration!
WeMOVEyou focuses on experiences that have been successful in targeting the following groups living in disadvantaged urban or rural areas with socioeconomic challenges:
youth
ethnic minorities and immigrants
girls and women
seniors
Physical activity has proven itself to be one of the single most important determinants for a healthy life. Leading authorities such as the World Health Organization (WHO) have extensively documented the positive effects of physical activity on health and quality of life. However, it has been equally well documented that inequalities in health related to physical activity are also strongly linked to socioeconomic factors such as income, education, employment and ethnicity. People who are poorer, less educated, unemployed or belonging to specific ethnic groups tend to engage less in physical activity and are less healthy.
Based on the EU-funded MOVE project that brought together 8 associate partners and 15 collaborating partners, weMOVEyou also includes information on 15 pilot projects, that have been implemented based on the broad experiences documented.
visit weMOVEyou.eu for more information
---