28/11/2014
MOVE Handbook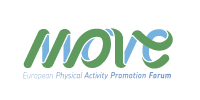 Do you believe that physical activity is for everybody? Do you think that sport for all organisations have an important role to play in reaching and engaging socially disadvantaged groups in physical activity? Could your organisation become even more inclusive and reach participants from a wider demographic than is currently the case? Then the MOVE handbook is for you!
The MOVE Handbook is a tool for promoting physical activity in socially disadvantaged groups. Physical activity levels tend to be low in socially disadvantaged groups, as these groups often face several barriers to the uptake of physical activity. The MOVE Handbook will give you a clearer understanding of these barriers and outline steps for you to overcome them successfully.
The MOVE Handbook features:
- 8 guiding principles for physical activity promotion in socially disadvantaged groups
- Inspiration from 18 case studies highlighting the guiding principles in practice
- A wealth of easily accessible additional online resources
When using the MOVE Handbook, the first step is to embrace the idea is that physical activity promotion for socially disadvantaged groups is everybody's business, including yours. The next step is to find out how your organisation can expand its reach by giving special attention to these groups.
The MOVE Handbook is a result of one of Europe's most extensive good practice collections of physical activity initiatives for socially disadvantaged groups. It gathered experiences from organisations across Europe and elsewhere. The collected project experiences underwent a rigorous evaluation process and the highest scoring practices were analysed in-depth to identify key factors of success. The identified success factors, along with important input from a thorough literature review, were then used to formulate the MOVE guiding principles for physical activity promotion among socially disadvantaged groups.
Download the MOVE Handbook in PDF format below. If you would like to receive a hard copy of the MOVE Handbook, please contact Hanne Müller at hm@isca-web.org