22/2/2018
Who is the enemy?
Comment by ISCA President Mogens Kirkeby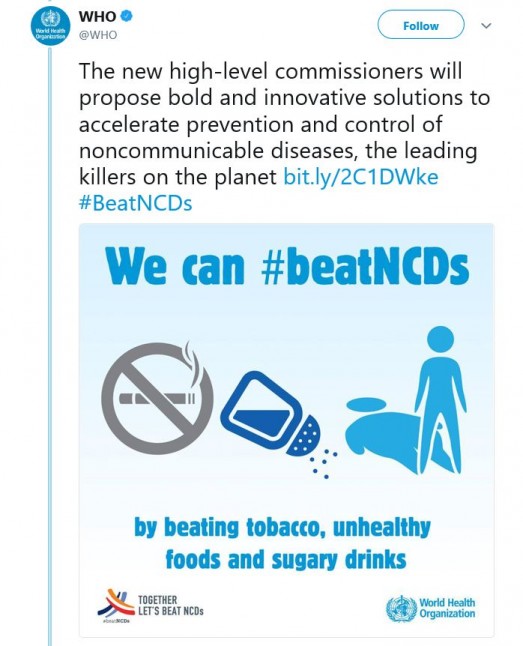 Image: Twitter post from WHO.
On 16 February, the World Health Organisation (WHO) announced the setup of an Independent Global High-level Commission on NCDs with the mandate to propose new ways of tackling non-communicable diseases, the leading cause of death and illness in the world today.
In a series of tweets, the WHO promotes the new Commission under the hashtag #BeatNCDs.
What's not to like?
As a proponent of healthy lifestyles, we at ISCA are more than happy with such an initiative overall. However, there is one risk. Physical activity may once more become the smaller part of the equation of the NCD puzzle – or be forgotten entirely. Too often, we have seen that physical activity for health gets only second priority when health promotion policies and initiatives are established in the health sector.
The same risk is apparent in the newly established Commission on NCDs: When promoting it, the WHO announced in a graphic the bold statement "We can #beatNCDs – by beating tobacco, unhealthy foods and sugary drinks". Where is physical activity in this equation – knowing that physical inactivity is the fourth leading risk factor for global mortality?
We can speculate that the reasons for the bias against physical activity as a solution to public health problems may be that THERE IS NO ENEMY. The WHO and governments in general seem to love solutions that are based on regulation. If there are rules, there are sanctions if the rules are not followed. And sanctions mean better behaviour in the future – or so the logic goes.
Therefore, it is also very "easy" to target tobacco, unhealthy foods, and sugary drinks: All of them can be regulated to some extent, namely by regulating the industries that produce and market these products. We have an enemy to beat!
Not so for physical activity. Who is the enemy? Apart from the humorous suggestions that the chair is the enemy because it creates sedentary lifestyles, the only real enemy… is ourselves. As a result, there is a need for much more complex promotion and motivation policies in the area of physical activity. And this is harder to explain politically than industry regulation.
But difficult does not mean irrelevant. Physical activity is highly relevant, and we need more interventions to use this solution. To stay in the health (and medicines) lingo, ISCA has suggested that we dub the solution MOVEment Pills.
To be fair, the WHO has launched a process to develop a Global Action Plan for Physical Activity – and we have seen good progress in this process.
It seems that we will have to continue to remind the health sector on the relevance of physical activity even though there is no enemy.