27/6/2018
Who is a peer educator?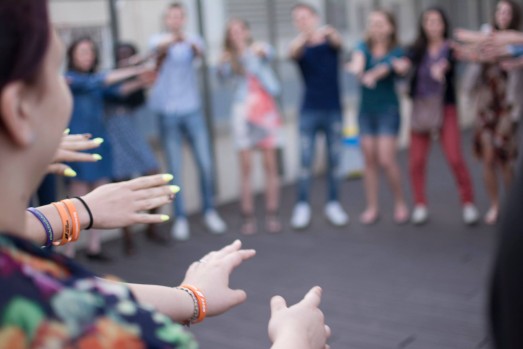 A new research report published as part of the European Youth Health Champions project challenges the notion of "peer education" as something that goes beyond age and gender and extends to community in the widest sense. The report, produced by the Royal Society for Public Health (RSPH), compiles results from a literature review, focus groups, surveys and case studies involving young peer educators aged between 14 – 25 years. The findings will be used to develop a training resource through the project, which is led by StreetGames.
The Report on the use and effectiveness of health peer education for young people in European countries highlights that peer education increases the knowledge and skills of those involved, revealing that the method is particularly useful for tackling sensitive issues such as sexual health, HIV prevention and domestic violence, and especially effective in promoting physical activity and healthy active lifestyles.
The European Youth Health Champions project is funded by the Erasmus+ programme and, in addition to StreetGames and RSPH, the partners include Birmingham City Council (UK), International Sport and Culture Association, the Flemish Institute for Sports Management and Recreation Policy (Belgium), BG Be Active (Bulgaria) Aġenzija Żgħażagħ (Malta) and Mine Vaganti NGO (Italy).
RSPH found that a wide range of factors influence the success of peer education programmes, including:
The use of theory and evidence to ensure a clear understanding of what can drive behaviour change and an intervention's outcomes.
There is already a large among of evidence-based, quality resources available to support the design and evaluation of peer education programmes on a wide range of topics.
A systematic and sustained approach to delivery of peer education programmes is essential.
Strategies for recruitment of peer educators should aim to build a team that reflects the characteristics and diversity of the target group, the mix of personalities and learning styles.
The active participation of the target audience, in this case, young people, in the design and development of interventions is highly recommended.

With regard to the role, competencies and training of peer educators, the results of the primary and secondary research agreed that:
Training should have clear goals and structure, but should be flexible and adaptable to different settings and contexts.
Trainers and peer educators should be treated as equals through collective ownership of the content of the training and involvement in planning and evaluating.
Training should take place in youth settings.
Trainers should be aware of the flexible development of peer educator roles and allow participants to develop at their own pace.
The most popular training methods are practical approaches, shadowing experienced leaders, group work and outdoor activities.
The most important competencies for a peer educator were seen to be a combination of interpersonal skills and knowledge: communication skills, core health and wellbeing knowledge, specific topic knowledge, presentation skills and leadership.
That the experience of e-learning on peer education is limited but it is seen by young people as a methodology that can be explored in combination with face-to-face training.
The main output of the research has been the development of a competencies framework, to guide the development of an open access training programme for peer educators.
Now the European Youth Health Champions partners are focusing on developing the project's e-learning platform and face-to-face programme for young health peer educators, which is expected to be launched in early 2019.
In the meantime, the training programme will be tested in the UK by 60 young people from Belgium, Bulgaria, Italy, Malta and the UK in June and July 2018.
Download the full report on the use and effectiveness of health peer education for young people in European countries.
Find out more about the European Youth Health Champions project.